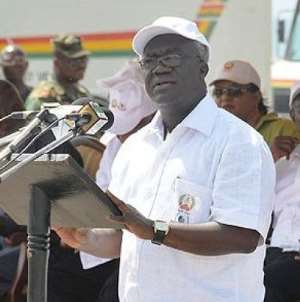 Accra, July 26, GNA - Mr Kofi Asamoah, Secretary General of Ghana Trade Union Congress (TUC), has appealed to the government to establish proactive policies to improve the business environment for informal entrepreneurs by strengthening institutions and eliminating excessive transaction costs and simplifying regulations.
"A reform of the tax systems was needed and efficient, corruption free administrative systems put in place to improve working conditions in the informal economy in ensuring gender equality and work towards the elimination of child labour" he added.
Mr Asamoah made the call on Wednesday in Accra at the second informal economy conference in Accra under the theme "Effective Organizing in the Informal Economy: The Way Forward for the Next Quadrennial".
The conference was funded by the Friedrich Ebert Stiftung (FES), a Non-Governmental Organisation in Germany.
He said the conference served as part of preparatory work of the TUC structures towards the 9th Quadrennial Congress scheduled from August 11 to 16, 2012 at the Kwame Nkrumah University of Science and Technology in Kumasi.
Mr Asamoah said the TUC since the early 1990s began paying attention to organizing informal economy workers into the union to ensure their protection and provide them with a voice and representation and to mobilise them to be part of the trade union movement.
He said workers in the informal sector are unprotected and confronted daily with the challenges of discrimination, physical abuse by their employers, lack of access to sick leave and majority without income and job security.
Advertisement
Mr Asamoah appealed to policy makers and stakeholders to get involved in labour relations in recognising the importance of the informal sector economy since it is the major provider of employment in the country.
Togbe Adom Drayi II, Head of Organisation department of TUC, said the country's informal economy according to statistics indicated that 82% of the workforce contributed to the Gross Domestic Products (GDP).
He said about 98% of annual labour market entrants in the country are compelled to take up informal economy jobs due to the lack of job openings in the formal sector.
Mrs Daniela Kuzu, Resident Director of FES, said the organisation was founded in 1925 as the political legacy in promoting peace and understanding and socio-economic advancement in developing countries.
GNA