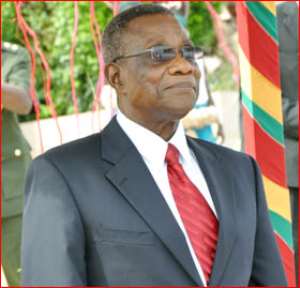 It is with heavy heart that Ghanaians received the news of the demise of Prof Evans Atta Mills. His passing on is a big shock to all men/women of goodwill. My sincere condolence to the family of Prof Mills especially Mrs Ernestina Naadu Mills.
We have lost a President full of warm smiles, free from malice and hatred. A brilliant academic, a lawyer, a sportsman, a mentor, a taxation expert and the brain behind the introduction of VAT, a Statesman, a father, a man of the people and leader of the Social Democratic Party.
He was versatile and committed to the principles he stood for. He was a lecturer in law and saw the rule of law in governance very cardinal. Unfortunately, he met many challenges during his term of office. These he however absorbed with a strong will and a remarkable strength of understanding. His unbending and iron will came good to him, when he came to face both local and International pressures.
So was it in 2004, after the election President Mills had to resist all forms of pressure from his ranks not to concede defeat. He conceded defeat, for the sake of peace. When he became President, many Ghanaians expected him to throw his opponents behind bars. This form of brutality he resisted and allowed the rule of law to find its level. In 2009, President Mills resisted International Political pressure to accept the offloading of the shares of Cosmos Energy to Exxon Mobile. In 2011 Prof Mills fought relentlessly to increase the taxation margin the country receives from its mineral resources against the stiff resistance of the "Multies". In 2012 President Mills resisted vehemently the attempts by "Big Brother" to enforce the legislation of Homosexuality in Ghana. In 2012, President Mills resisted the IMF` dictate that Ghana should remove fuel subsidies, an action which could have badly affected the masses.
President Mills during his term in office reduced significantly Public borrowing and brought inflation to a single digit. His school children who were enjoying free school uniform, free exercise books, free school feeding program, free computer and free education for the disabled, will forever remember him. Indeed deprived areas that received water and electricity supply as well as school buildings to replace schools under trees, will certainly remember his memories and his social interventions.
Prof, an exemplary leader, father for all, selfless, humble, was a custodian for peace and innocence. He was however too innocent for the brutal and inhuman politics of our days, for which he fell a victim. I propose for discussion on radios and TVs, a paradigm shift in Ghanaian politics.
Dr E.K.Hayford
UG-Legon
NEC – Member