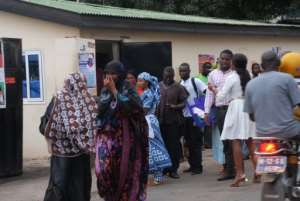 ACCRA (AFP) - Ghana's upcoming vote was already tipped to be one of the country's closest ever, but the president's sudden death has upended the race and could threaten the re-election bid of a divided ruling party, analysts said.
Former vice president John Dramani Mahama, who was sworn in late Tuesday following death from illness of John Atta Mills, is well liked but might be a flawed candidate for the December poll, which has the highest of stakes.
"The trophy in this election is enormous and both sides know it...The oil is starting to flow," said Alex Vines of the London-based think-tank Chatham House.
Ghana, also a major exporter of cocoa and gold, in December 2010 joined the ranks of oil producing nations and whoever is elected will be tasked with steering a petroleum sector that been praised for its transparency.
Mills had to fend off a challenge from a prominent political family before securing his re-election nomination from the ruling National Democratic Congress (NDC).
He ended up trouncing Nana Konadu Rawlings, the wife of ex-leader Jerry Rawlings, winning 97 percent of the vote at the NDC's unprecedented primary battle in July 2011.
But the fact that the Rawlings family chose to challenge a sitting president from its own party exposed rifts within the NDC, which was already facing a tough re-election fight after winning the presidency with less than a one percent margin in 2008.
The key question following Mills' death is, "will the NDC be able to unite coherently," said Vines.
Analysts said Mahama would likely emerge as the NDC's nominee, but the party must quickly hold an emergency congress where others, including Rawlings, will be free to contest.
"It would be extraordinary for the party to discard (Mahama) five months before an election," said Emmanuel Akwetey, who heads the Centre for Democratic Development in Accra.
But, said another analyst, the NDC may have legitimate concerns about Mahama's strength as a candidate, which could throw the new nomination battle "wide open."
"He is popular to some extent, but I'm not sure if he's ready yet," said Thomas Tieku of the African Studies programme at the University of Toronto's Munk School, and a close observer of Ghanaian politics.
Mahama, who recently published a memoir, is highly regarded among the "elites and urban educated classes, but he has not built the rural political base needed to beat the opposition New Patriotic Party's Nana Akufo-Addo, Tieku said.
Analysts said the poll will be decided by swing voters in the central and western region, areas where Mahama, as a northerner, may struggle.
Asked whether Mahama's emergence hurts the NDC's electoral prospects, Tieku said, "absolutely."
Akwetey however warned that it would be a mistake to underestimate Mahama, a long-standing public servant who was a lawmaker and a cabinet member before rising to the vice presidency.
"I think he is known countrywide, both at the elite strata and the grassroots level," he argued.
There were no reported major policy disputes between Mills and Mahama and it will be crucial for the new president to position himself as Mills' political heir, Akwetey added.
Mills also had perceived weaknesses that may play to Mahama's advantage.
While the exact causes of his death were unclear, the 68-year-old Mills had recently shown signs of illness, including losing his voice and a gradual loss of weight.
"He was well liked, but there was also a sense of variable performance and that maybe there was a lack of energy," said Vines.
The 53-year-old Mahama could benefit by coming across as a more dynamic leader, analysts said.
Even before Mills's death, voters in the west African nation of some 25 million people were already headed for "the closest election in Ghanaian history," Vines told AFP.
The opposition NPP has ruled Ghana before and experts described Akufo-Addo as a strong candidate, who, unlike Mahama, has experience as a presidential candidate.
The NDC, said Akwetey, is in for a "very tough fight."