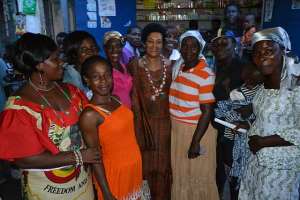 Although women in Ablekuma South, just like in many places, desire to take lead in productivity, lack of education and the collapse of the fishing industry particularly in Chorkor and Korle Gonno explain their underemployment and poverty level. This fact that most female fishmongers are illiterate and poor forms part of the findings made by Ms. Dede Amanor-Wilks, the Convention People's Party (CPP) Parliamentary candidate for the area.
She engaged with some women of Chorkor-Chemunaa in another step of "Dede Ebaa tsu tour on Sunday 22nd July. The women of Chorkor-Chemunaa cried of deceit and neglect of the area from development since the 1960s when the fishing industry boomed, leading up to the construction of affordable houses in some parts of the area. They raised the issue of poor sanitation as result of overpopulation and inadequate fish stock in meeting local demand, therefore making some of them to enter into hawking of second-clothes.
Dede Amanor-Wilks therefore stressed the need for these women to set-up effective local structures to hold concerned development institutions accountable and further assured them that the CPP, under the banner "Ghana Must Work Again", will help in addressing their concerns.
She reiterated, emphatically, the linkages that their local frustrations have with factors such as the State being afraid to act and because it is afraid to take actions to defend their economic interest, we see a country that she describes as neo-colonial.
Accompanied by some party executives, she was warmly welcomed into the gathering of women when they sang songs and discussed some of the local issues. She also used the occasion to pay respect to the Chief of Chorkor, Nii Tann.
Dede worked as a freelance journalist and consultant to various multilateral and bilateral organisations, including UNECA, UNICEF, UNDP, the ILO, the FAO, UNIDO, the IDRC, the Panos Institute, Irish Aid, DANIDA, the Nordic-SADC Journalism Centre, the SADC Centre for Communication and Development and the West African Newsmedia and Development Centre (WANAD). Before her entry into politics, she was Actionaid International Director for West & Central Africa, managing eleven countries.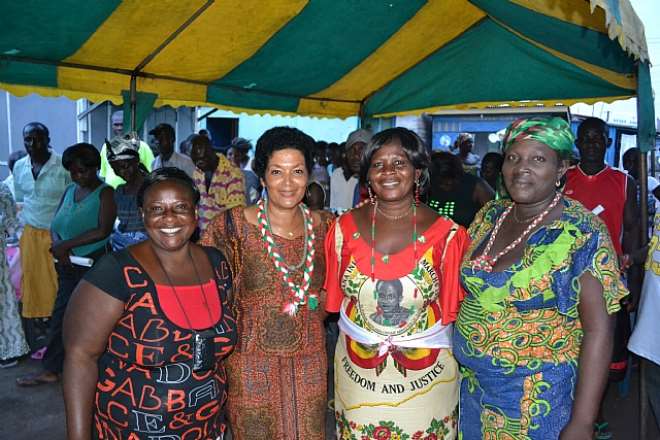 DEDE AMANOR-WILKS (2ND RIGHT) AND SOME OF THE WOMEN LEADERS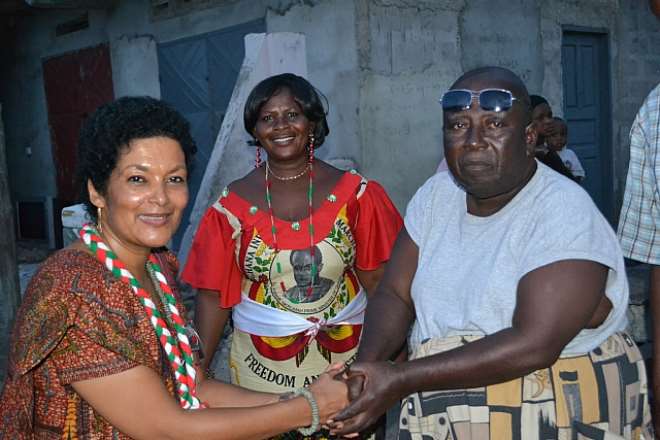 DEDE IN HANDSHAKE WITH NII TANN