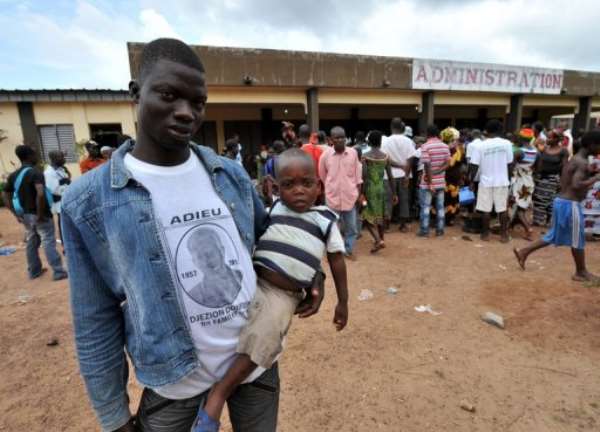 Most people from the camp came from the Guere ethnic group. By Sia Kambou (AFP)
DUEKOUE, Ivory Coast (AFP) - Displaced people at Duekoue in the volatile west of Ivory Coast have accused the army of attacking them and burning a camp while UN peacekeeping troops stood idly by.
Last Friday, a big crowd from the town raided the camp for 5,000 displaced people on its outskirts, in reprisals for the death of four people allegedly killed Thursday by people from the camp.
"The FRCI (Republican Forces of Ivory Coast) shot at us, and killed people," one displaced person told an AFP journalist Sunday, as others said the small number of Moroccan UN troops at the camp had failed to intervene.
The United Nations said that at least seven people were killed in Friday's raid, but witnesses spoke of nine bodies and said the toll could be higher.
The Nahibly camp outside Duekoue, which had sheltered 5,000 people, was a smoking mess of burned tents and plastic sheeting.
Most people from the camp came from the Guere ethnic group, which has tense relations with the Malinke people, who made up most of the attackers, according to witnesses.
The northern Malinke are considered to be supporters of President Alassane Ouattara, while the Guere were held to back former president Laurent Gbagbo, who clung to power for about four months after losing an election in late 2010.
Gbagbo was ousted by force after clashes that claimed some 3,000 lives, including in the west of the cocoa-rich country.
The FRCI include many ex-rebels who support Ouattara and come from the north, and they have already been accused of massacres at Duekoue in March 2011, when hundreds of people died.
Sebon Dakin, a high school student, was unsparing for the Moroccan troops of the UN mission in Ivory Coast (ONUCI) who were guarding the camp. "In front of ONUCI they kill us, they burn people. ONUCI did nothing."
Army chief of staff Soumaila Bakayoko visited the region Sunday and vowed to reinforce the presence of regular troops and to limit the power of the "dozos", traditional hunters who act as army auxiliaries.
Ndolamb Ngokwey, humanitarian coordinator for the UN in Ivory Coast, sought to defend ONUCI, stating that the handful of troops stationed at the camp were soon "overwhelmed (by) more than 1,000 people."