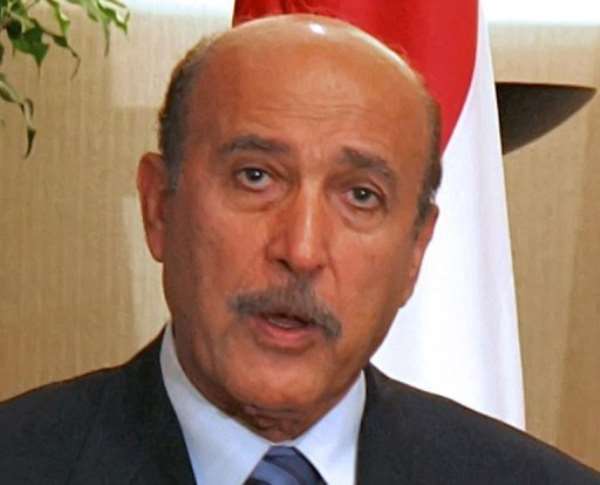 Omar Suleiman. By Cris Bouroncle (AFP/File)
CAIRO (AFP) - Egypt's former spy chief and vice president Omar Suleiman is to receive a military funeral in Cairo on Saturday, the official MENA news agency reported.
"General Omar Suleiman, former vice president, will receive a military funeral after prayers at the Al-Rashdan mosque," in Cairo, MENA said.
Suleiman died on Thursday of a heart attack aged 77. He had been undergoing medical tests in the United States.
A private plane carrying his body is expected to arrive in Cairo overnight, his personal aide, General Hussein Kamal told MENA.
The former general had reportedly suffered from lung disease for several months, after which he developed heart problems.
Suleiman was appointed vice president during the last days of the uprising against Hosni Mubarak's regime in a bid to placate protesters.
Less than two weeks later, on February 11, 2011, he would give a brief television address to announce Mubarak's resignation.
Suleiman left Egypt after a failed bid to run in the country's first ever presidential polls in May.
The winner of that election, former Muslim Brotherhood official Mohamed Morsi, sent his condolences to Suleiman's family, his spokesman Yassir Ali said on Thursday.
For almost two decades, Suleiman ran the feared and powerful General Intelligence Service, wielding immense power that was used to crush dissent, particularly from the Muslim Brotherhood and other Islamist groups.
He was well respected in the United States, with whom he partnered to orchestrate a series of short-lived truces between Israel and the Palestinians.
Born on July 2, 1935 to a well-off family in the southern town of Qena, Suleiman graduated from Cairo's military academy in 1955.
He received military training in the former Soviet Union, and was for years a highly enigmatic figure both to the world at large and at home in Egypt, where the all-powerful military's activities are shrouded in secrecy.
The death of "Egypt's black box", the state-owned Al-Akhbar newspaper said on Friday.
Suleiman increasingly acquired a public face in recent years, being tipped even before the uprising as a potential successor to Mubarak.