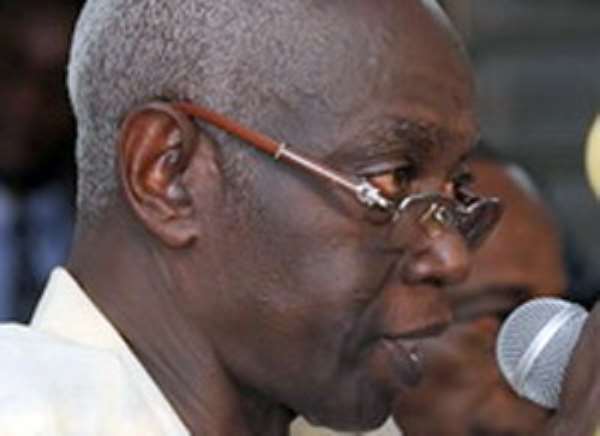 Dr. Kwado Afari Gyan
PARLIAMENT IS expected to summon the Chairman of the Electoral Commission, Dr. Kwadwo Afari-Gyan, to submit the rules and regulations of the new Constitutional Instrument (CI) governing the 2012 general elections to the House.
The New Patriotic Party (NPP) Member of Parliament (MP) for Manhyia, Dr. Matthew Opoku Prempeh, yesterday appealed to Speaker Justice Joyce Bamford-Addo to summon the EC Chairman to bring the regulations to Parliament because time was running out as the December 7 polls was approaching.
'Madam Speaker, I am appealing to your good office to invite the EC to come and lay the rules and regulations of the new CI governing the 2012 general election,' he pleaded.
His plea, which was not objected to by any member on the floor, was accepted in good faith by Speaker Bamford-Addo.
However, it is not clear when Afari-Gyan will be invited as Parliament is expected to go on recess on Friday, July 27, 2012.
The EC boss could be summoned to the House by next week before Parliament goes on recess.
The Manhyia MP, who is also the NPP's director of elections, pointed out that since the 2012 general election was barely four months away and Parliament was about to go on recess, it was very important to summon the EC boss to the legislature to lay rules and regulations governing the polls.
Like all instruments, the rules and regulations, when laid, will take 21 parliamentary sitting days to mature and become operational.
Dr. Opoku Prempeh, who is popularly known as Napo, feared that if care was not taken, the rules and regulations would not be ready early enough for the forthcoming elections.
According to him, per the information that he had gleaned, the rules and regulations governing the 2012 general election had long been sent to the Attorney-General's office to be worked on.
He therefore could not fathom why the document had not yet been brought to the country's lawmaking body.
'My concern was that since a new CI has been tabled to amend the old C.I. 15, it was important for the rules, regulations and nominations of the 2012 general election to be laid to enable it to also pass the 21 days period since time is off essence,' Dr. Prempeh explained later in an interview.
By Awudu Mahama