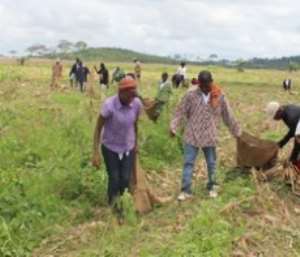 The National Service Scheme (NSS) expects to harvest no less than 40,000 bags of maize this year from 2,500-acre farm projects in six regions across the country.
The target represents more than double the scheme's 16,620 bags of maize it output from cultivating 1,500 acres of farms in the Central, Eastern, Ashanti and Brong Ahafo regions. Presently the scheme has additional farms in the Greater Accra region (Dawhenya) and Volta region (Abutia-Kpota) where personnel visit periodically to support a small core of workers.
The targeted yield was disclosed by NSS Executive Director, Vincent Senam Kuagbenu after a tour of the Scheme's 500-acre maize farm at Dawhenya near Tema.
Addressing journalists after the tour, Kuagbenu who expressed profound gratitude to government and the Ministry of Food and Agriculture for supporting the farm projects, said the farms are a demonstration of what the properly channelled energies of the nation's youths can contribute towards solving national needs.
He said the needs of the nation are real and require practical measures, not rhetoric, to address them, explaining that the establishment of the National Food Buffer Stock Company by the government demands increased production for storage as a buffer against future food shortages.
Kuagbenu said the mechanised farm projects have been endorsed by the generality of Ghanaians and urged young graduates in particular to look to agriculture as it provides job opportunities and ready avenues for them to practicalise what they learn from school rather than getting disillusioned from chasing after one conference to the other searching for unfulfilling jobs.
He explained that the National Service Scheme was reforming its work to ensure that the contribution of service personnel was not on paper but real, and urged every young person in the country to look positively towards the scheme.
"Quite often we find ourselves, as young people, in areas where our services are not needed, and it is a challenge for us – the fortitude and the strength, enthusiasm and passion that normally accompany young people are misdirected and misguided. One area is the over concentration of our attention on seminars, workshops, conferences and what have you. It is quite bizarre that we find ourselves, after graduating from school, we don't want to practice what we have learned and we are always roaming from one hotel or another attending conferences..."
Kuagbenu said as a result, productivity suffers a great deal because the real issues needing attention are left unattended to, which undesirable attitude he said, permeates the Ghanaian society, including the civil service. "... I want to use this platform to urge all my contemporaries and all workers of this country, who especially are working for government, to open themselves to ensure that government's agenda is achieved. He said while government wage bill has shot up to over GH¢6 billion from a little over GH¢2 billion with the implementation of the Single Spine Salary Structure, the same cannot be said of productivity level. Describing the situation as not the best for the holistic development of the nation, he said there was an immediate need for change in attitudes. "In justice when we are demanding equity, we must also come with clean hands."

Kuagbenu also served notice that the National Service Secretariat would soon release postings for the national service year and warned persons he described as influential and well-placed to desist from seeking to alter the postings of their wards and children.
He said the practice is so pervasive that his office is regularly inundated with calls from the so-called influential persons, including politicians, traditional rulers and all manner of "big men" requesting that their wards are sent to specific offices. But he warned that they better put an end to it or they will be embarrassed.
"Quite often, you have all manner of people coming to the head office, not to come and enquire of what National Service is meant to achieve or meant for, but they come, if it is not a minister of state or MP or chief executive or traditional ruler - any manner of big man in Ghana - they come knocking on our doors with lists of people to be posted to organisations which have no need for personnel and if you are not able to meet that, they go from one office to another and insult you, they brand you as disrespectful, arrogant and what have you."
He said the nation needs to be committed to desirable ideals or it will miss its development targets, pointing out that rights and responsibilities go hand in hand and that democracy requires of every citizen to act responsibly.

Story by Ghana/Myjoyonline.com