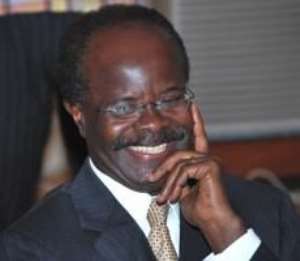 The flag-bearer of the Progressive People's Party (PPP), Dr Papa Kwesi Nduom has pooh - poohed the ongoing Institute of Economic Affairs (IEA) Presidential debate describing it as a flop without him.
The PPP leader indicated that IEA's decision to exclude political parties who have no representation in Parliament from participating in the debate, calls its [IEA] commitment to strengthening the country's multi-party democracy into question.
Dr. Nduom's comment is on the back of several protests raised by some aggrieved minority political parties in the country - some of whom have threatened to seek legal redress for their exclusion.
The minority political parties who have expressed grave concerns about the IEA's criteria argued that they were all registered and qualified political parties approved by the Electoral Commission (EC) hence should be given equal opportunities.
But the IEA has maintained its decision to engage only the presidential candidates of the National Democratic Congress, New Patriotic Party (NPP), Convention Peoples Party (CPP) and the People National Convention (PNC) in the 2012 pre-election debate series.
The ruling NDC party however pulled out stating reasons that, as a convention, no sitting president had ever taken part in such events.
The presidential candidates for the PNC and CPP have taken their turn and the NPP candidate is expected next month.
However, Dr. Nduom on Asempa FM's Ekosii Sen programme Thursday said IEA's presidential debate without Adwumawura will lack fresh ideas, good comparison and good information.
According to him, the NPP, CPP and PNC have nothing new to offer but just a re-cycle of their old policies and programmes which he said will not inure to the benefit of Ghanaians.
Dr. Nduom stated that IEA's decision to debar political parties with no representation in Parliament from the presidential debate is in contravention of the Constitution.
He said there is nothing in the Constitution and the political party's law that debar political parties without representation in Parliament from participating in a presidential debate.
Dr. Nduom believes the 'lazy' work of the civil society group has the tendency to lower the development of Ghana's democracy.