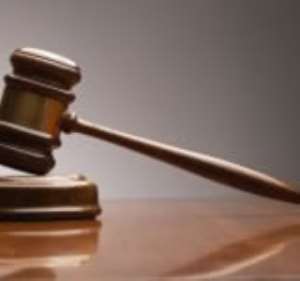 Kumasi, July 19, GNA – A member of a criminal gang that attacked and robbed a labourer whilst on his way to work was on Thursday remanded into prison custody by a Kumasi Circuit Court.
Kwame Ali, alias "Red" is facing charges of conspiracy and robbery.
The plea of the accused was not taken and he was asked to re-appear on July 30.
His two other accomplices, whose names were not given, are on the run.
Police Chief Inspector Frimpong Manso told the court, presided over by Justice D.W.P Amedior, that the victim, Kofi Abandiba, lives at Suame while the accused stays at Asafo, all in Kumasi.
The two know each other well.
The prosecution said on July 6, at about 0500 hours Abandiba was heading towards his workplace when he met Ali together with his accomplices at Adum, near the Ghana Cocoa Board (COCOBOD) Jubilee House.
All of a sudden, they pulled out locally-manufactured pistols and knives and ordered him to surrender the money and other valuables he had on him.
Fearing for his life, he did just that – letting go his cellular phone and cash of GH¢60.00.
Abandila later informed his father, David Atanga, and with the assistance of others arrested and handed Ali over to the Adum Railways police.
GNA