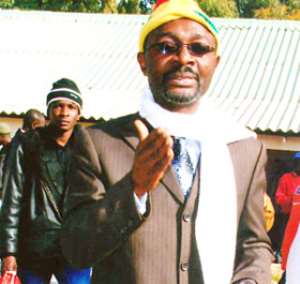 It is not for nothing that the sages say good name is better than riches.  You can buy all the versions of the Bible but you cannot buy salvation.
Similarly, you can add heap to heap, accumulate riches upon riches and even conquer the whole world but you cannot buy honour, because it is not available at the supermarkets for sale. Honour is earned, not acquired.
My dear and cherished reader, sometimes I really understand you whenever you become confused after reading my opening paragraph and compare it to the topic at stake.  After all, what am I Angel Gabriel for?
Was I not the one who predicted the birth of the Lord Jesus Christ and went on to make Zachariah dumb when he dared me?
Now, let us settle for a serious business. Mr. Alfred Agbesi Woyome had all the money to buy luxurious cars for himself, his family and friends.
He single-handedly sponsored hundreds of football funs to watch the World Cup in South Africa.  As a 'financial Engineer', he was able to sponsor more than 40 NDC parliamentary candidates and promised to sponsor more this year.
Woyome, the self appointed financier of the ruling NDC owns 'awesome' mansions and possesses almost all the good things of life.
But when he came face to face with the law, he found himself in a police van when he was arrested in a Rambo style as he was riding in one of his luxurious cars.
Before Woyome could blink an eye, he saw himself resting in the cells of the BNI, notwithstanding his huge and fatty bank accounts wealth.
The crass criminal called Alfred Agbesi Woyome (apology to Mr. Rawlings) has now lost all the honour, the power and the glory.
Today, the name Woyome is associated with rip-off, theft and 'azaa', and children and adults as well continue to compose songs in his name with lyrics that are not worth mentioning here.  Even those he helped would not like to touch him with a long stick.
The other day when I jokingly picked a piece of meat from the cooked rice of my three-year-old nephew, the small boy shouted on top of his voice and asked:  'Are you Woyome?' (sic!!).
So you see where this Woyomegate has taken us to?  When I described the circumstances which led to the payment of the judgment debt to Woyome to my 78-year-old mother, she simply shouted: 'Barawo' (thief in Hausa).
Mr. Eric Amoateng, the former Member of Parliament of Nkoranza North who is now languishing in jail in the United States of America was fabulously rich, very popular and a respected traditional ruler.
He owns mansions across the length and breadth of the country as well as farms, luxurious cars and other landed properties.
He was adored by his constituents and some even literally worshipped him like the way Abraham worshipped God.
He had more friends than enemies and his political opponents feared his ability to 'spray' money.  Sadly when he was arrested in the US for trying to import heroine into that country, all what was good about Amoateng turned bad.
He lost all his friends and those who benefited immensely from his wealth will never touch him with a long stick.  Honour has been peeled from all the riches that the man used to enjoy.
The honour, dignity, power and the glory is gone with the wind. I wonder how the man would be able to retrieve the honour lost when he eventually returns to Ghana after serving his term in prison.
Apart from losing his political carrier, he can no more occupy the Amoma throne now that he would become an ex-convict.  You see how the lust for money can destroy us?
I used to admire the serene, nice looking Sima Ibrahim, the fashion designer of Exopa fame.  I saw him as one person who could carry the name of Ghana very high as far as fashion designing was concerned.
He looked harmless, calm and very respectful.  When he was arrested at the Kotoka International Airport for trying to export cocaine, I bowed down my head in shame for the Youngman I loved so much.
On that day, I did not take my dinner and spent the whole night brainstorming on what money can do and cannot do.  Sima too owns a fleet of luxurious cars and mansions but on the very day he was arrested, that wealth meant nothing to the young man who had the sky as his limit.
When I looked at the face of the stricken Sima Ibrahim being led away to serve his sentence, I couldn't help but shed some few tears for the boy I admired so much.
The possibility is that, Sima might have been in the business for a long time.  Like any other drug baron, the more money they get, they more interest they cultivate in the drug business.  They never get satisfied in the acquisition of wealth.
If Sima had said goodbye to the drug business and concentrated on his fashion designing, he would not have found himself in such a mess.
Like Woyome, Amoateng and others who are in similar situations, the body of Sima Ibrahim has been smeared with disgrace.
Indeed in a matter of ten years, Sima Ibrahim will come out of prison, but, how is he going to retrieve this lost honour?  Surely, the taunting, insinuation and mockery will be waiting for him, unless he relocated to another country where his story was not heard.
Even in such a situation he would have to change his name because in this world of internet craze, his name has become a household word in the whole world.
I have decided to use these three gentlemen in my analysis because the younger generation used to see them as role models until they were exposed.
If a parliamentarian and traditional ruler, a fashion designer and a Consol could get themselves involved in such criminal activities, then I wonder what truck pushers would do if they got the 'opportunity' to get rich quick.
The truth is that, money or wealth for that matter is not the only thing that can make a man happy. Money can work to some limit and when it reaches the end of its tether, it fails to click. That is why Solomon once said, 'Vanities of vanity, all is vanity'.
The youth of today should learn a lesson or two from what has befallen these gentlemen and  concentrate on their chosen professions and careers,  rather than chase money as if the world was about to come to an end.  Because of the craze for money, knowledge is thrown to the dogs.
At funerals, churches, weddings and other gatherings, those who have money are given special treatments as professors and men of letters who do not have money are treated as if they do not matter in society.
Sometimes, even students who are lured to engage in drug pushing abandon their studies and concentrate on the get-rich-quick business.  They refuse to accept the fact that knowledge is power.
The time has come for our church leaders in particular, to learn to give respect to people who have made it in life through hard work and stop ushering in drug barons to sit at the front pew, while men of dignity are asked to sit at the back row, simply because they cannot donate more during 'collection' time.
What is most disturbing is that, these so called 'men of God' go to the extent of praying for drug barons to return home safely with their 'booty' and the barons promise to donate cars and other items to these 'men of God'.
These days, the 'men of God' have taken over the duties of embassies as they are always heard on air telling unsuspecting listeners that they could help them acquire visas to travel outside, as if one could not make it in Ghana.  And truly, people troop to these quack preachers for counselling and guidance.
By Eric Bawah