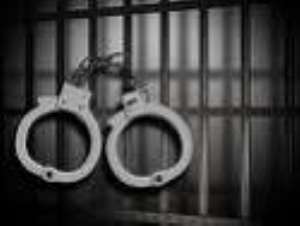 Takoradi, July.17, GNA – A circuit court "B" in Takoradi on Tuesday sentenced Eric Agbo, a 30- year-old unemployed, to 10 years imprisonment in hard labour for stealing locomotive engine cables belonging to the Ghana Railway Company.
He pleaded guilty.
Police Chief Inspector Theophilius Kwame Agbemordzi told the court that on June 8, a locomotive engine derailed while moving between a section of Loco Running Shed and Bauxite Yard, near the Boat Yard at New Takoradi.
He said on June 10, the rail was repaired but the engine failed to restart.
Chief Insp. Agbemordzi said a check was conducted on the engine and it was detected that some cables connecting the engine and the traction motor had been cut off.
He said railway security personnel on duty suspected some boys living a few meters from the scene and confronted them.
Chief Insp. Agbemordzi said the boys pleaded with the security personnel to allow them some time to conduct investigations.
He said about 30 minutes later, the boys led the security personnel to their abode and pionted at the convict as the one who committed the offence.
Chief Inspector Agbemordzi said the accused admitted the offence at the Police Station and said he sold the cables to a scrap dealer at Takoradi the previous night.
He led the Police to the scrap yard but failed to identify the person the cables were sold to.
GNA