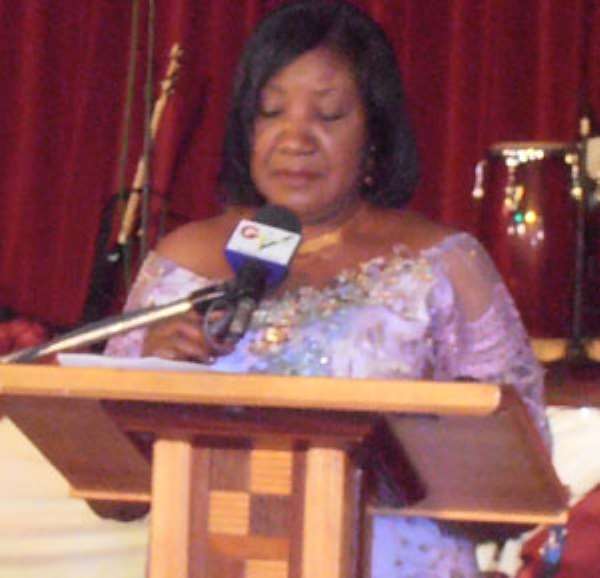 Mrs. Mitchell delivering her speech during the launch
THE DR. Robert Mitchell Foundation (RoMMeF), a health NGO on Friday launched a Childhood Cancer Fund to create awareness and encourage early detection of the disease.
The fund is expected to also help the establishment of the Pediatric Cancer Centre at the Central Regional Hospital in Cape Coast with assistance from the School of Medical Science at the University of Cape Coast.
According to the foundation, childhood cancer had become a major challenge in Ghana without the knowledge of most Ghanaians.
RoMMeF is to take care of the treatment of children with cancer, initiate research into plant medicine and help promote   compassionate care for the victims.
Statistics indicate that 1,200 children below the ages of 15 are affected by cancer in Ghana yearly.
Globally, more than 11 million people are diagnosed with cancer annually; the disease is said to cause 7 million deaths every year.
A report produced by RoMMeF during the launch estimates that by 2020, there will be 15 million cases of cancer annually from which 70% will occur in developing countries.
The foundation says reliable data indicates that cancer had emerged as an important cause of morbidity and mortality in Ghana.
Emma Mitchell, Founder and President of RoMMeF in a welcome address lamented that childhood cancer sucked up the strength in children, destroyed organs and bones and weakened the body's immune system against other illnesses.
According to her, very little is known about the possible causes of most childhood cancers as most occurred at an early age, adding that while causative factors often operated before birth   radiation was established to be another cause.
The foundation named electromagnetic waves as in microwave ovens, pesticide use associated with bone marrow cancer and acute myeloid leukemia among others as causes of childhood cancers.
She said less than 5% of childhood cancers could be attributed directly to genetic factors which increased risk of cancers such as Down Syndrome.
According to Mrs. Mitchell, health experts maintained that childhood cancers could be cured provided prompt and essential treatment is accessible.
'Even though survival rates of the disease in developed countries go as high as 75% or more in some cases, the chances of survival in Ghana are usually lower than 20% for most cancers.'
Mrs. Mitchell attributed lack of awareness about childhood cancer as a major challenge including socio-cultural practices.
'Other limitations include inadequate diagnostic services, unavailability or irregularity in the supply and unaffordable costs of chemotherapeutic agents, limited access to suitable protocols and inadequate supportive care.'
She said it was unfortunate that there were only two pediatric cancer units in the country located at the Korle-Bu and Komfo Anokye Teaching Hospitals.
'…the foundation is therefore seeking the support of Ghanaians to advocate for the treatment of the disease by the National Health Insurance Scheme as is being done for breast cancer and prostate cancer patients.'
'There are currently talks with the National Health Insurance Authority to include the diagnosis and the treatment of childhood cancer in the National Health Insurance Scheme.'
Nana Prah Agyensaim, Paramount Chief of Assin Owirenkyi Traditional Area launched the fund with an appeal to Ghanaians to contribute at least GH¢1 a month to support victims.
 By Stella Danso Addai