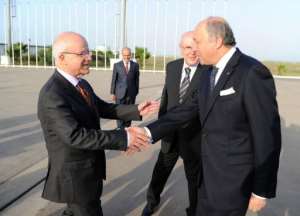 ALGIERS (AFP) - French Foreign Minister Laurent Fabius arrived in Algeria late on Sunday for his first official trip to an Arab country, with the political crisis in neighbouring Mali featuring high on the agenda.
Fabius was met at the airport by his Algerian counterpart Mourad Medelci.
The two-day visit reflects "the importance that we attach to the relations between France and Algeria, relations that are distinguished by their depth and intensity," French foreign ministry spokesman Bernard Valero said ahead of the trip.
Talks between the two ministers are expected to focus on the crisis in Mali, where fighters linked to Al-Qaeda in the Islamic Maghreb (AQIM) now control key northern cities, and the wider security situation in the Sahel region.
Fabius is also due to meet Algeria's President Abdelaziz Bouteflika on Monday.
"Paris expects the strong involvement of Algeria, as the main power in the region, in resolving the crisis in Mali and the insecurity in the Sahel," Algerian newspaper El Watan said on Saturday.
Once a beacon of democracy in West Africa, Algeria's neighbour was thrown into chaos by a coup d'etat in March that allowed ethnic Tuareg separatists and Al-Qaeda-linked Islamists to sweep across northern Mali in a rapid offensive.
The takeover has stoked fears that Mali's north will become a new breeding ground for terrorism, with AQIM now wielding significant influence there.
The jihadists have ousted their Tuareg rivals, enforced Islamic law and destroyed ancient World Heritage sites they see as idolatrous.
Algeria played a role in mediating between Tuareg rebels and the Malian authorities in 2006, and many both within the region and beyond hope that the north African country will throw its weight behind a solution to the conflict in northern Mali.
A week before Fabius' arrival, Belgium's Foreign Minister Didier Reynders visited Algeria, and said after his trip that Mali's wealthy neighbour could "facilitate" a resolution to the crisis.
Since the start of the crisis across its southern border, Algeria has repeatedly backed diplomacy, while France openly favours intervention against the Islamists.
Fabius himself has said that the use of force was probable "sooner or later," and that for AQIM and its allies France was "the main enemy."
Advertisement
French President Francois Hollande said on Saturday that it was up to Africans to decide how and when to intervene militarily in northern Mali, while adding that France "must show solidarity."
Liberte, another Algerian daily, said Sunday's visit by France's top diplomat would be "another opportunity to pressure Algeria into accepting the military option in Mali."
It should also pave the way for a trip to the former French colony that Hollande is expected to make before the end of the year, according to the foreign ministry.
And it will "deepen the dialogue and mark the commitment of the two countries to building 'an exceptional partnership'," according to Algerian news agency APS.
Last week Minister for Maghreb and African Affairs Abdelqader Messahel said that "we encourage dialogue between different parties, and consider that there is still a chance for a political settlement to the crisis in northern Mali."
Algeria, which celebrated 50 years of independence from France earlier this month, has close but difficult relations with its former colonial ruler.
There was an improvement in economic ties under former president Nicolas Sarkozy, and much is anticipated on the political front with the election of France's new socialist leader in May.
In a letter to Bouteflika to mark the independence celebrations, Hollande said that France should by now be able take "a clear and responsible look" at its colonial past in Algeria, which it ruled for 132 years.
For his part, the Algerian president said in a message to his French counterpart, on the occasion of France's July 14 celebrations, that it was time to conduct a "lucid and bold" review of the two countries' shared past in order to strengthen their ties.
About one million Algerians live in France, while about 24,000 French people reside in Algeria.