Congolese vote on longtime leader's bid to extend rule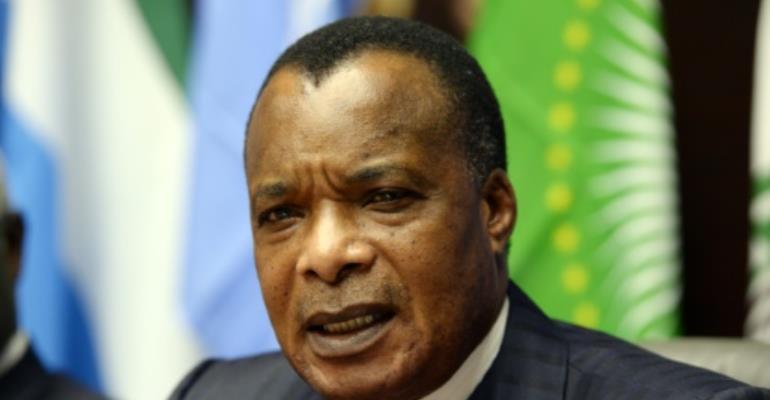 Brazzaville (AFP) - Congolese voted Sunday on whether to amend the constitution to enable one of Africa's longest-serving leaders, President Denis Sassou Nguesso, to seek a third term, extending his 31-year grip on power.
Opposition groups have called for a boycott of the referendum, which they describe as "a constitutional coup d'etat' in the oil-producing Republic of Congo.
Voter turnout appeared low at around midday in the capital Brazzaville.
A polling station near the presidential palace where Sassou Nguesso cast his ballot was the only one of six visited by AFP where voters were waiting in line.
"We want change in order to have a constitution of the future, and not as others claim for superficial reasons because the president craves a new mandate," Sassou Nguesso said, calling on his critics to come and express their discontent at the polls rather than abstaining.
The small central African country was rocked by protests in the run-up to the referendum, including clashes Tuesday between opposition demonstrators and security forces in Brazzaville and the economic capital Pointe-Noire that authorities say left four people dead.
But opposition leader Paul-Marie Mpouele claimed Friday that at least 20 people had died in the unrest and urged opposition supporters to boycott the referendum but also to "avoid all violent acts".
Only security forces and those with a special police permit were allowed in the streets of Brazzaville on Sunday.
Voter Brice Mbemba, without revealing whether he had voted "Yes" or "No", said he had come to "vote for peace in my country".
"We want peace, nothing but peace because we have suffered too much," he said.
- 'Inclusive dialogue' -
The referendum proposes two changes to the constitution, which currently disqualifies Sassou Nguesso from running for reelection in 2016 because it stipulates a maximum age of 70 for presidential candidates and limits the number of mandates to two.
Sassou Nguesso is 71 and has already served two consecutive seven-year terms.
After beginning his career in the military, he took power in 1979 and has been in office ever since, except for a five-year period.
The former Marxist soldier was president from 1979 to 1992, when Congo was a one-party state.
He went into opposition in 1992 after losing multi-party elections but returned to power at the end of a brief but bloody civil war in 1997 in which his rebel forces ousted president Pascal Lissouba.
He was elected president in 2002, then again in 2009, when he won nearly 79 percent of the votes. Half of his 12 rivals boycotted that election.
The European Union stressed Thursday that "freedom of expression and association should be preserved" and that "an inclusive dialogue was the only way to restore a broad consensus" in the country.
The president of former colonial power France, Francois Hollande, Wednesday urged Sassou Nguesso to "calm tensions" while emphasising his right to "consult his people".
Tens of thousands of the president's supporters rallied in Brazzaville on October 10 in favour of the constitutional changes.
The turnout dwarfed an anti-government demonstration late last month, when several thousand people poured onto the capital's streets to protest against the president's plan to cling to power.
They rallied under the cry "Sassoufit", a pun on the French expression "ca suffit", or "that's enough".