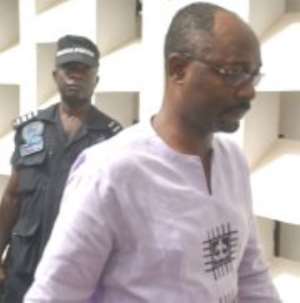 The attention of the Young Patriots – USA has been drawn to government's apparent unwillingness to cause the invitation and interrogation of Mr. Alex Segbefia, Mrs. Valeria Sawyer, who have clearly been exposed by the emergence of Mr. Alfred Woyome's hand written police statement, to have contributed to the gargantuan Woyome fraud.
Young Patriots –USA cannot comprehend why, in the unraveling of the Woyome saga, some former officials of the erstwhile NPP administration had called for questioning, but yet, the people whose names appeared in police report as having had some discussions with Mr. Alfred Woyome prior to the executions of his fraudulent act, are walking freely.
Also our attention has been brought to the lackadaisical attitude exhibited by state prosecutors in ensuring that, the perpetrators of this gargantuan crime are made to face the full rigors of the law. This attitude by state prosecutors has even been queried by the trial judge.
Young Patriots – USA is therefore issuing an ultimatum to the Government of Ghana to, as a matter of urgency:
1. Call and question those whose names have appeared in the police report written by Mr. Alfred Woyome.
2. Purge the A-G's department to ensure that an A-G willing to fight crime and fraud is given the chance to handle the prosecution processes of Mr. Alfred Woyome, and his accomplices – and not the vice versa.
Though the Chairman of Young Patriots –USA, Opoku Okyere(aka Konongo Kaya) has already filled a petition seeking 25,000 signatures, in his capacity as an ordinary citizen of Ghana, which is currently pending before the White House Petition Review office, with the intent to call on the US government to use Ghana's quota of the Millennium Challenge Account (MCA) to pressure Ghana government to ensure that justice is attained in this saga(www.woyomemoney.com). Failure to meet the above demand within 21days – starting from the date of release of this statement – will leave Young Patriots – USA with no option than to fully roll out our "Operation Occupy Ghana Embassy" and "Wonky3ndi Demonstration". Also, we will press further our petition to the US Congress to ensure that the full rigors of the law take place in this Woyome saga.