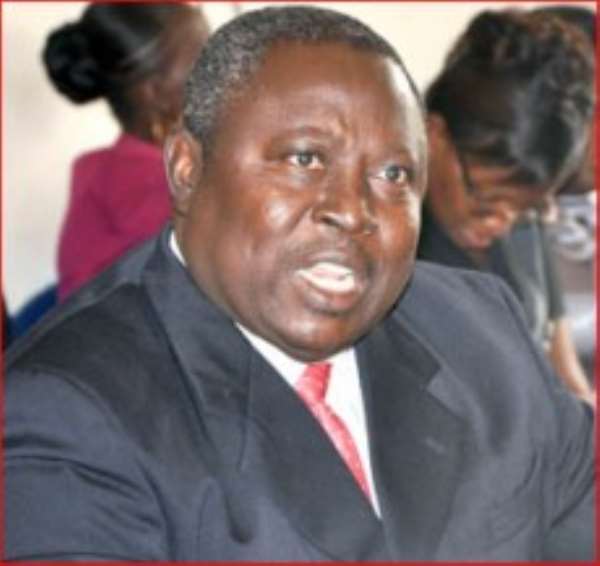 Former Attorney General and Minister of Justice, Martin Amidu, has stated that Deputy Attorney-General, Ebo Barton-Odro, is responsible for Government's decision to accept an offer for an out-of-court settlement with Africa Automobile Limited, a move he describes as a clear breach of the Constitution of the Republic of Ghana.  
According to Martin Amidu he is now learning with utter dismay that government in July 2011 had agreed to a $1.5 billion out-of-court settlement with Africa Automobile Limited, without his knowledge, at the time he was Attorney-General and the only one who could have authorized that such a decision be made.
Martin Amidu explained that assuming he was absent during that period when the case was withdrawn from court, President Mills had to specifically appoint in writing another Minister to double as Minister of Justice (not as Attorney-General) to act in his stead.
However, according to Martin Amidu, no such temporary appointment took place in July 2011.
The former A-G therefore stated that Hon. Barton Oduro, MP, who took liberties for claiming to hail from Cape Coast with the President of the Republic did not have the constitutional authority under Article 88 to make such an important and critical decision which could cost millions of Ghana Cedis to the Republic "without my expressed concurrence and in writing."
Martin Amidu further added that not even President Mills who appointed him as the Attorney-General could under Article 88 of the Constitution "delegate my constitutional functions as the Attorney-General to any other person or authority without first relieving me of my appointment by express revocation of my warrant of appointment."
He described Barton Odro's conduct in this matter as unconstitutional, fraudulent, null and void as it contravenes Article 1(2) of the Constitution, adding that "it could only have been intended to promote some self serving purpose by the person who took the decision in violation of Article 88 of the Constitution particularly, sub-clause (5) thereof."
The former AG also disclosed that during his tenure as Attorney-General "no file on the case involving the Galloper II Vehicles was ever submitted to me as Attorney-General with recommendations for any decision whatsoever."
He challenged the Deputy Attorney-General and the Solicitor-General to produce evidence to the public that the file on the Gallopers was ever brought to his attention as the Attorney-General for any action and that his instructions thereon warranted out-of-court settlement agreement in July 2011.
"If there is no such evidence on the file, then, the Deputy Attorney-General, Hon. Barton Odro, and the Solicitor-General, Mrs. Amma Gaisie, have some explaining to do to the people of Ghana; how come the case was discontinued or held in abeyance for settlement without authority from the Attorney-General?" Martin asked.
He further warned that if the alleged discontinuance or holding of the case in abeyance was done unconstitutionally it will follow that his successor cannot rectify a void and unconstitutional act by any usurpers of the authority granted the Attorney-General under Article 88.
Apparently, this is not the first time Ebo Barton-Odro has been involved in such illegalities.
Martin Amidu revealed that after 23 rd  December 2011 when President Mills was busy diverting the electorate's attention from the crimes involved in the Woyome payments to those who created the liabilities, "Hon. Barton Odro, the Deputy Attorney-General, had the boldness, without any direct or express authority from me since I took over as the Attorney-General to work out and arrive at a settlement of GH¢38 million plus for alleged wrongful dismissal of workers of the National Mobilization Progamme by Mr. Jake Obetsebi-Lamptey in a pending Court case that had been brought by the dismissed workers against the Attorney-General."