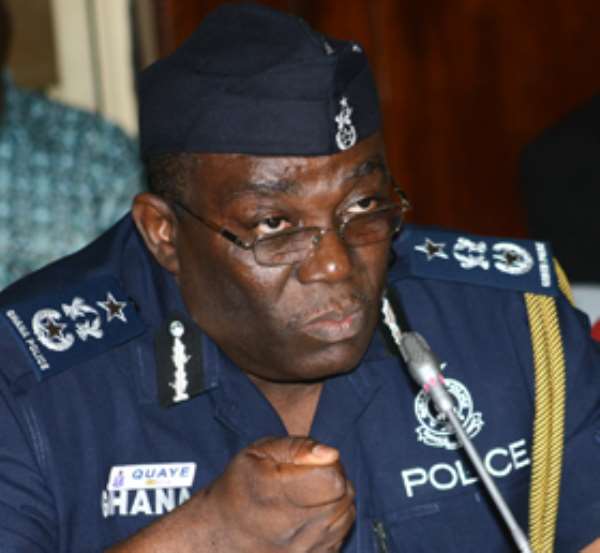 Paul Tawiah Quaye, IGP
A former state attorney has challenged the police to swiftly go after officials who may have colluded with African Automobile Limited in what appears to be an attempt to dupe the state of 14 million cedis in another judgment debt saga.
AAL is already embroiled in a 1.5 billion dollar judgment debt controversy. But fresh documents from the Supreme Court reveal what the court suspects could be possible collusion between state attorneys and officials of AAL.
The court had rejected a 14 million cedi claim on the state by AAL and was ready to award only 1,563 Ghana Cedis plus interest.
But the state attorney in charge of the case pleaded with the court to instead give AAL all the 14 million cedis it had earlier requested.
The trial judge however turned down the request saving Ghana that amount.
Augustine Obour who spent ten years at the AG's department says the state attorneys who handled the case have questions to answer.
'This is incredible that state attorney came back and said give the 14 million. This is like a joke. Even though when the plaintiff has not established any evidence before the court to warrant a decision granting him 14 million, the state attorney said give it to him. We are all grateful to the judge for doing what is required of a judge.'
In a related development, Executive Director of policy think Centre for Policy Analysis, Dr. Joe Abbey, has expressed disgust at the many judgment debt cases plaguing the country.
He backs calls for a high powered commission to probe them.
Meanwhile, former Attorney-General Betty Mould-Iddrisu is due to appear before the Public Accounts Committee over the CP judgment debt matter. Also expected to appear is the current A-G Benjamin Kunbuor.
Source: Myjoyonline