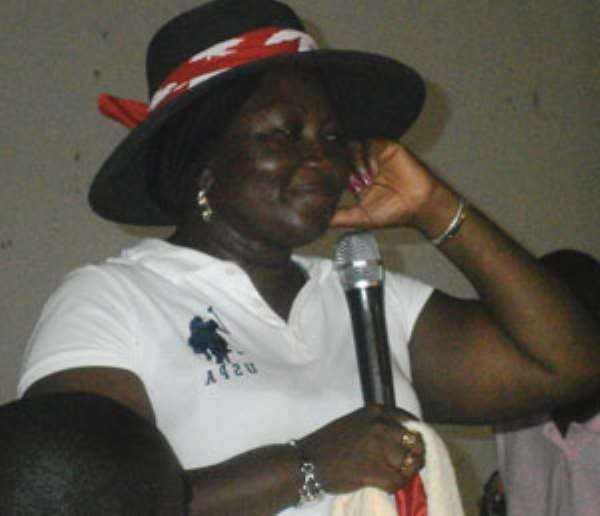 Patricia Appiagyei addressing the youth forum
THOUSANDS OF youth who attended a forum organized recently by the New Patriotic Party (NPP) parliamentary candidate for Asokwa, Patricia Appiagyei, have pledged to campaign for Nana Akufo-Addo to become the next president.
The enthusiastic youth pledged to seize any opportunity available during the December general elections to get the NPP flag bearer elected into office.
The forum was held at the National Youth Centre, Ahinsan in Kumasi for all youth in the constituency irrespective of political or religious affiliation to interact with the aspiring MP on the way forward to creating opportunities for them in the area.
Ms. Appiagyei used the occasion to explain Nana Addo's vision for the country to the youth saying he was the best person to lead Ghana into prosperity, justice and peace.
According to Ms. Appiagyei, a former KMA boss, the youth had become the most vulnerable in society because of the high unemployment situation in the country.
She said it was appropriate to engage the youth who form over 60 percent of the voter population based on statistics from the   biometric registration in such interactions in order to formulate and plan programmes to create more opportunities for them.
The youth who attended the forum expressed delight at the opportunity to interact with the aspiring MP and pledged to support her to win the Asokwa seat and also campaign for Nana Addo's victory to ensure the policies discussed at the forum were implemented.
Most of the youth who took turns to speak at the forum appealed to their peers and politicians to interrogate issues of national development, job creation and peace in all political discourses to ensure the country effectively tackled the current unemployment situation.
Ms. Appiagyei has been organizing such interactive programmes with her constituents aimed at bringing all people in the area together to work to improve their living conditions when she becomes the MP for the area.
From Emmanuel Ako-Gyima, Kumasi