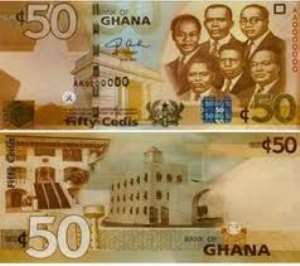 Accra, July 09, GNA - The Bank of Ghana on Monday said it would introduce an upgraded GH¢50 banknote, which has been enhanced with new security features to stem counterfeiting of the currency.
Mr Millison Narh, second Deputy Governor of the Bank, said due to technological advancement, there was the need to continuously improve the security features of banknotes to make them more resilient to potential counterfeits.
He said like most currency notes the world over, the Ghana Cedi banknotes have been under pressure from counterfeiters both internal and external with the GH¢50 banknote being the most sophisticatedly counterfeited due to its high value.
"To ensure that banknote security is not unduly compromised and to maintain the integrity by avoiding a general loss of confidence in the denomination, the Bank has decided to introduce an upgraded GH¢50 banknote with a more secured public recognition feature called 'SPARK', together with other features," he said.
The Spark, which replaces the hologram, is in the form of a green cocoa pod at the bottom right hand corner of the banknote.
When the upgraded banknote is tilted, the cocoa pod changes colour progressively from green to blue and back to green. A beam of light rolls on the cocoa pod.
The upgraded GH¢50 denomination is expected to be introduced into circulation by early August 2012.
The announcement also marked the beginning of a public education and awareness campaign on the upgraded banknote.
GNA