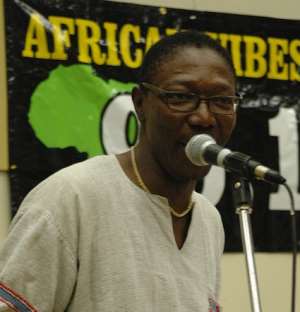 Accra, July 9, GNA - The Forum for Governance and Justice (FGJ), a pressure group, on Monday urged President John Evans Atta Mills to appoint a Commission of Inquiry to investigate judgement debts in the Fourth Republic.
In a statement signed by Dr. Clement A. Apaak, Convener of FGJ, said the President, in the national interest, should appoint the Commission of inquiry to investigate all debts and claims against the State paid from the inception of the Fourth Republic till date, either resulting from negotiated settlements out of court or from judgements awarded against the State.
"FGJ believes that the majority of Ghanaians consider the issue of judgement debt to be of mammoth public interest," it said.
"We also believe that the President is a listening President, hence, our request on behalf of the good people of Ghana for him to appoint a non-partisan Judge-led Commission of inquiry to look into this debilitating national challenge."
FGJ said the President had the needed power under article 278 of the 1992 Constitution to grant the request.
"The FGJ feels justified in making this call based on the multiplicity of justifications, reasons and explanations offered by past government officials in relation to the African Automobile Limited Gallopers saga."
FGJ noted that there was a blame and counter-blame by past and present government officials as well as Members of Parliament, drawn from the New Patriotic Party (NPP) and the National Democratic Congress (NDC), the only two political parties which have ruled Ghana since the inception of the Fourth Republic.
It said it was convinced that "we can only get to the bottom of why and how we paid GH¢ 642 million in debt and may pay more, through a Commission of inquiry".
It noted that there were various causes of debts against the State, such as molestations by members of the security agencies, wrongful dismissal of government employees, compensation in respect of accidents caused by some public officials, as well as wrongful demolition of private properties.
"However, the truth is that actions and/or in-actions of government and public officials, past and present, in the form of breach of contracts constitute the mass of the payments made so far."
It noted that 86 institutions and individuals benefited from such payments in 2010 alone.
Among them were Balkan Energy Limited (GH¢ 170,726), CP Construction (GH¢ 180,012,982), African Automobile Limited (GH¢ 2,500,000), MS Rockshell International (GH¢ 7,140,500); Latex Foam Limited (GH¢ 133,165), Novotee Limited (GH¢ 573,058) and Nene Yobo Asutsuare Sugar Factory (GH¢ 2,525,600).
Dr. Seth Twum, Nana Owusu Akyia Prempeh II, Kojo Boakye Kutin, Kojo Hodare-Okae and Alfred Agbesi Woyome were among the individual beneficiaries.
It said while judgement debt was not synonymous to corruption, it believed that a Judge-led Commission could expose any associated acts of corruption.
"A Commission of inquiry will (as well) likely reveal the truth about how and why the judgement debts came to be and whose actions or in-actions may have caused the State to pay out GHȼ642 million and potentially more."
FGJ said it believed that the country must serve notice that public and government officials, would be held accountable, even personally liable, should their actions or in-actions lead to needless and preventable judgement debt.
GNA