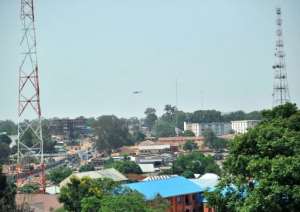 JOS, Nigeria (AFP) - Weekend raids by gunmen in a central Nigerian state left more than 100 dead, an official said Monday, as the governor widened a curfew to restore calm in the flashpoint area.
Plateau state falls in Nigeria's so-called "Middle Belt," where the mainly Christian south meets the majority Muslim north, which has been the site of waves of sectarian violence in recent years.
The weekend attacks were blamed on gunmen from the Fulani, a pastoralist, Muslim ethnic group with long-standing land rights grievances and resentment against the state's mostly Christian leaders who control political power.
At least 80 died when Fulani herdsmen raided several villages on Saturday, the spokesman for the state's governor, Pam Ayuba, told AFP.
On Sunday, they stormed a graveyard in Barkin-Ladi, roughly 90 kilometres (56 miles) from the state capital, where some of the victims of the previous day's attack were being buried, Ayuba added.
Among those killed in the graveyard assault were federal senator Gyang Dantong, majority leader of the state's legislature Gyang Fulani, as well as at least 20 others, Ayuba further said.
Both politicians were members of the mostly Christian Birom ethnic group, according to officials and police.
After news spread that the politicians had been killed, mobs set up roadblocks in several areas, prompting Governor Jonah Jang to impose an immediate dusk-to-dawn curfew in four districts.
That curfew was extended on Monday, with residents only allowed out between midday and sundown.
"More resources, more personnel and more logistics," have been sent to the area to enforce the curfew and maintain order, national police spokesman Frank Mba told AFP.
Nigeria's police chief also visited on Monday to conduct an assessment.
The recent bloodshed in Plateau has been caused by several concurrent conflicts.
Advertisement
Biroms and other mainly Christian ethnic groups are viewed as the indigenes in the region, while Hausa-Fulani Muslims are seen as the more recent "settlers" despite the fact that many have been there for decades.
Biroms fear that Hausas -- a much larger ethnic group throughout Nigeria as a whole -- will eventually be allowed to dominate an area they see as their own.
Fulani have themselves been victims of much of the violence, an official from the Fulani cattle breeders association (MACBAN) told AFP.
"Due to the loss of family members and their cattle, many Fulani lead a useless life, they are just vegetative, and we know the dangers of that," said Saleh Bayeri, the MACBAN national secretary and Jos resident of Fulani origin.
He said it was "possible" that the Fulani who have lost their land, including vital grazing areas, "may have been the ones launching reprisal attacks."
Aside from the Fulani conflict, the divided state has seen sectarian strife between Muslim and Christian groups, much of it concentrated around the capital Jos, with more than 1,000 killed since 2009, according to rights groups.
Boko Haram, the radical Islamist sect that is responsible for more than 1,000 deaths in Nigeria since mid-2009, has also targeted the area, including by attacking churches.
Last month in neighbouring Kaduna state, coordinated church bombings by Boko Haram sparked reprisal violence by Christian youths who raided mosques and killed dozens of their Muslim neighbours, burning some of their bodies.
Muslim groups responded the next day and killed several others and Kaduna city, the state capital, remains under curfew amid ongoing tension.
Nigeria is Africa's top oil producer and most populous country, with roughly 167 million people. The predominantly Christian south is considered far wealthier than the Muslim north, a disparity that has fueled the violence.