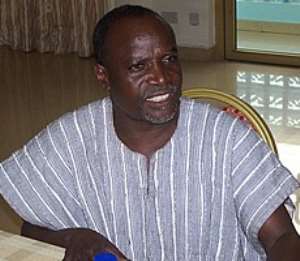 Increasing the number of beneficiary households and the amount of money given under the Livelihood Empowerment Against Poverty programme does not mean the government's Better Ghana agenda has not achieved great things, Employment Minister Moses Asaga has said.
Government has announced it is increasing the amount per household from GH¢12 to GH¢36 a month as well as the beneficiary households which currently stand at 68,000 to about 200,000 by 2015.
The decision has prompted questions as to what had happened to the agenda to create a Better Ghana, in which citizens create wealth for themselves.
But Mr Asaga says the questions are misplaced.
"As much as we are developing the middle class, as much as the economy is growing, as much as the GDP is expanding, we know there are people who are slipping down and it is they that we want to cover. So doing a LEAP does not mean that we haven't achieved a lot in developing the economy and creating jobs. The LEAP is now to target [the most vulnerable]. If someone is 65 years old, he is no longer capable of working and he is in the rural area, you need to give that person a smile on the face," he explained.
NDC makes U-turn
The LEAP Programme was introduced in 2008 by the previous Kufuor administration where "orphaned and vulnerable children, the extremely poor who are above 65 years and persons with severe disabilities without productivity capacity - are given grants which range between GH¢8 and GH¢15 at pay points, in their respective districts every two months."
Opposition parties then, including the now governing National Democratic Congress condemned the programme as unsustainable and a vote buying gimmick.
Ms Hanna Tetteh, Communications Director of then candidate Mills' campaign team, said the NDC did not consider the programme in its 2008 elections manifesto because it was ill-thought through.
She said instead of a LEAP programme, the NDC intended to establish a more viable programme that would make people more productive and self-reliant.
"The programme is not sustainable in a long term; we have a series of initiatives that are meant to help people lift themselves out of poverty…we have a situation where still to a large extent we are donor dependent and where exactly are we going to be able to get the resources to continue with this kind of handout"? she argued.
But upon assumption of office, the NDC government continued with the policy and is now expanding it.
Asked by Joy FM's Super Morning Show host Kojo Oppong-Nkrumah Monday, how Ghanaians could be sure that the programme was not just a conduit to doll out money to party cronies, the Employment Minister said "Well, I was not privy to kind of discussion, I don't remember that discussion but all I can say is that poverty knows no boundaries, poverty doesn't care whether you are NPP, NDC, PPP etc".
He insisted the programme was devoid of politics.
The Communications Director of the New Patriotic Party, Nana Akomea said it was gratifying that the NDC government had seen reason to continue with the programme despite condemning while in opposition.
He said even though arguments about the sustainability of the programme were persuasive, there were many vulnerable people whose suffering could not be ignored.


Story by Ghana l Malik Abass Daabu/Myjoyonline.com