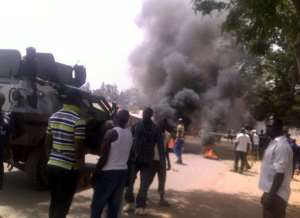 LAGOS (AFP) - Nigerian police said Saturday they have made safe a bomb in Jos, a central flashpoint city wracked by ethnic unrest and attacks blamed on the Islamist group Boko Haram.
"The police anti-bomb squad successfully recovered, disarmed, defused and evacuated the improvised explosive device ... planted by terrorists," Plateau State police spokesman Emmanue Abuh told AFP.
He said the bomb was discovered late Thursday in an area of the city called Congo Russia after most residents had gone to bed.
"There was no casualty or damage to property. No arrest has been made in connection with the incident yet," he said.
Jos and its environs have been hit by repeated violence between Muslims and Christians in recent years.
The area has also witnessed gun and bomb attacks attributed to Boko Haram.
Last week, police foiled a bid to blow up a bridge in the area.
Plateau State lies in the so-called middle belt region dividing the mainly Muslim north and predominantly Christian south of Africa's most populous nation and top oil producer.