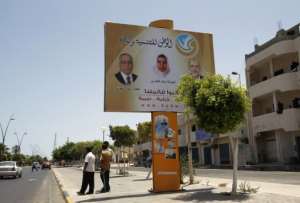 Libyan men stand near an election campaign poster in Sirte. By Mohammed Abed (AFP)
BENGHAZI, Libya (AFP) - Gunfire on Friday struck a helicopter transporting electoral material for Libya's vote, killing one person, an army spokesman said.
"A helicopter carrying ballots and flying over the region of Hawari (south of Benghazi) was struck by small arms fire," Colonel Ali al-Sheikhi said. "One person on board was killed."