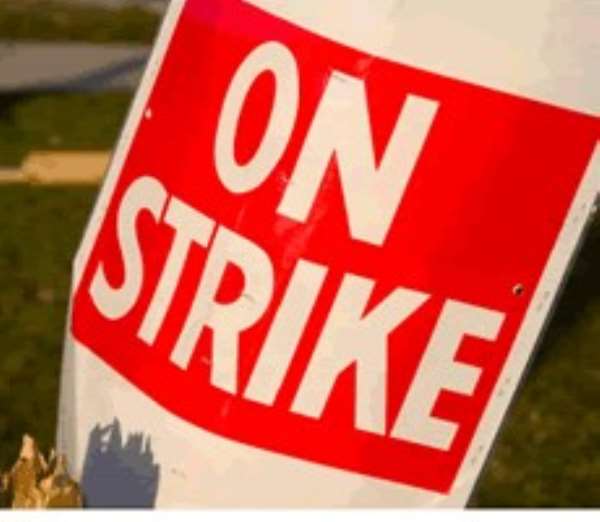 The National Association of Graduate Teachers (NAGRAT) have issued a two-week ultimatum to government to upgrade them to the new pay policy.
Meanwhile, the Civil and Local Government workers are also demanding immediate resumption of negotiations on their market premium to prevent a similar action.
On Wednesday, the Pharmaceutical Society of Ghana also issued a statement cautioning government of growing anger among Government and Hospital pharmacists over the undue delay in concluding discussions on their new pay.
General Secretary of NAGRAT, Stanislaus Nabome who addressed a news conference Thursday accused the Fair Wages and Salaries Commission of being selective in addressing workers' demands
According to him, NAGRAT has written four letters to the FWSC urging them to call a stakeholders meeting without receiving any response.
According to Mr. Naboame, since the FWSC implemented the Single Spine Salary Structure, they have failed to decompress the structure so as to remove overlaps.
"The entire pay structure is a mess and its implementers must come again. This buttresses the fact that the FWSC has lost control of the pay structure. It is a deliberately orchestrated agenda to shortchange the teachers of this nation," Mr. Naboame stated.
"We have used all the legitimate means in pursuit of this concern, but since they are determine to ignore us, we are giving government up to two weeks to respond to issues of market premium, and categories 2 and 3 of teacher allowances else NAGRAT would step up effort beyond the ordinary," Mr. Naboame concluded.
In a related development, the Ashanti and Bono Ahafo branches of the Civil and Local Government Staff Association of Ghana, CLOGSAG, are also threatening an indefinite strike if negotiation on their market premium does not resume.
Leaders of the group at a news conference say it is becoming increasingly difficult to restrain their members.
At the news conference, Secretary of Bono Ahafo CLOGSAG, Yakubu Dramani said negotiation for a market premium stalled six months ago and it appears there's no immediate end in sight, hence they are calling on the Minister for Employment and Social Welfare to step in to resolve the situation.
He said if the problem persists, the association would be left with no other choice than to use other means to seek redress of their concerns.