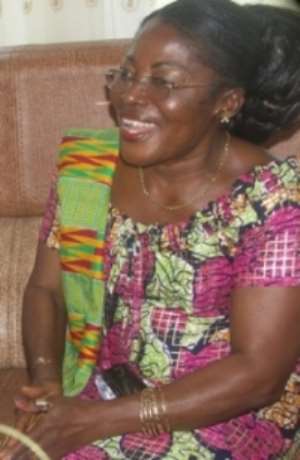 Gomoa Assin (C/R), July 4, GNA – The Central Regional Minister, Mrs Ama Benyiwa Doe, has said the shift system was an impediment to forcing children to go to school.
Speaking at a meeting of queen mothers from Gomoa Akyempim Traditional Area at Gomoa Assin, she said the shift system was encouraging children to play truancy.
"When you see them in the morning and question them why they are not in school, they will tell you they are for the afternoon shift and when you see them in the afternoon they will tell you they are for the morning shift",
Mrs Benyiwa Doe said the government, being aware of the problems being created by the shift system, was working hard to increase classroom accommodation and desks for the shift system to be abolished.
She said the government believed the problem of quality education delivery was not with fee paying but getting access to education facilities and motivation of teachers.
That is why, Mrs Benyiwa Doe said, the government decided to provide additional classrooms and desks and construct Community Senior High Schools to ease pressure on parents finding schools for their children.
"The government will not sacrifice quality education on the altar of votes," she pointed said.
Mrs Benyiwa Doe spoke about tourism in the region and said it was unfortunate that the region was being classified among the leading HIV infection regions in the country and appealed to the queen mothers to help reverse the trend.
She expressed concern about the attitude of some people to exploit the National Health Insurance Scheme to their advantage by submitting fraudulent claims to the Scheme and said "Let us be truthful as we make our claims."
Mrs Benyiwa Doe appealed to queens to reject politicians who preached violence in the run-up to the December 07 general elections.
"We must ensure that our country remains in peace but not in pieces during and after the elections," she said.
Mr Theophilus Aidoo-Mensah, Gomoa West District Chief Executive, said the government had implemented 110 projects and appealed to Ghanaians to exercise patience.
Nana Ahenmaa, Queen mother of Gomoa Ngyiresi and President of the Queenmothers Association appealed for support for the queenmothers to embark on income-generating activities to support themselves.
Obrifo Ahunako Ahor Ankobea II, Omanhen of the Traditional Area, appealed to politicians to make the upcoming general elections free fair and peaceful.
GNA