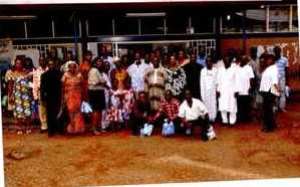 Accra, July 3, GNA – The people of Abomosu in the Eastern Region on Monday launched a foundation dubbed: "Pomaase Educational Foundation" to raise funds to enable them to construct a Senior High School (SHS) for students in the area.
Mr Kwasi Amoako-Attah, Member of Parliament for Atiwa in an address at the launch described education as a profitable investment and a big legacy that all parents should always bequeath to their children.
He said when knowledge was added to wisdom, citizens contribute meaningfully to attain good development, adding "...the fearful person in the world is the one who have knowledge and wisdom. Our great grand fathers and mothers do say that they wished they could acquire knowledge in addition to their wisdom."
Mr Amoako-Attah advised parents not to sacrifice their children's education for any other thing because learning helped a person to develop well.
The MP noted Abomosu is a great community that had brought up a number of prominent personalities and therefore should have owned a second cycle institution by now.
He, therefore, appealed to residents of the area to contribute their quota to help in raising the infrastructure.
He said the New Patriotic Party (NPP) knowing the importance of education, its flagbearer, Nana Addo Dankwa Akufo-Addo had promised to make it (education) a priority when given the chance to rule this country.
Mr Amoako-Attah assured the people that he would use his MP's Common Fund to support the project and called on the people not to always expect the government to initiate any development for them but they should endeavour to start something for themselves.
"A journey of a million miles starts with one step," he said and urged the executives of the Foundation not to look back, but rather forged ahead despite any obstacles that might come their way.
Osabarima Ameyaw, Abomosuhene, said many personalities had had their basic education at Abososu but the area lacked a Senior High School and advised the residents to be serious with the project.
"Our lands are finished so we should now use our pens and books to help develop our communities," Nana Konadu Kontia II, Queen-mother of Abomosu said and called for massive for the project.
Nana Amo Boamah, Chairman for the occasion, advised parents to let their children learn hard to make the required grades in order to enter the SHS, adding it was not going to be an automatic qualification because they come from Abomosu.
He appealed to non-governmental organisations, corporate bodies, political parties and philanthropists to assist the community in the provision of tables and desks, exercise books and textbooks.
About GH¢ 6,139 was realized after the fund raising ceremony.
GNA