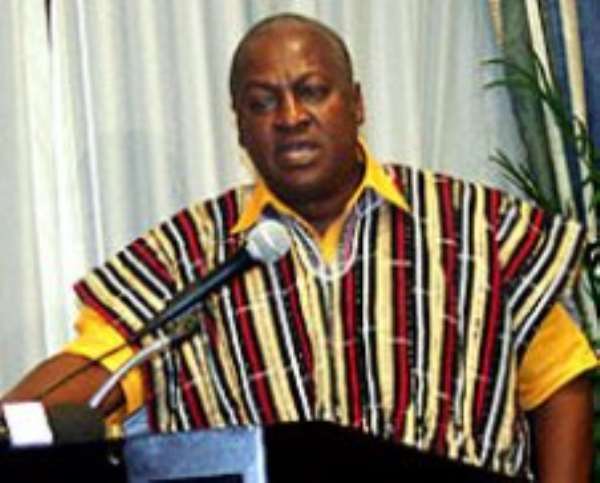 John Dramani Mahama, Vice President
The Vice-President, Mr John Dramani Mahama, has tasked the youth to imbibe only the positive attitudes of developed countries and combine them with local virtues to unearth their potential and facilitate their development.
He again called for a collaborative effort to reward youth achievers to encourage them to strive for excellence and serve as role models in society.
Mr Mahama made the call when he launched the Youth Achievers' Awards, organised by Charterhouse and sponsored by rlg Communications, in Accra Tuesday.
The awards scheme is to recognise youth achievers between the ages of 15 and 30 across the country for their innovation, creativity, entrepreneurship and leadership in science, education, agriculture, sports and other sectors.
The Vice-President noted that Ghana's population was dominated by the youth and referred to the recent census which put the youth below 30 years at more than 50 per cent of the population.
He mentioned the provision of sufficient educational opportunities, health care and job creation as some of the challenges posed by the increased population of the youth, for which reason the government had initiated programmes, such as the National Youth Employment Programme (NYEP), to create job avenues for the youth.
Mr Mahama said the youth needed to be recognised to encourage them that they were on track and motivate them to strive on.
He said the awards category for persons with disability was laudable, since it would honour the physically challenged who had braced themselves up for success.
A Deputy Minister of Information, Mr Samuel Okudzeto Ablakwa, underscored the need for Ghana to empower the youth to enable them to take up the challenge and impact positively on their society.
He recalled the days when it was regarded as disrespect and a dishonour for young people to opt for greater ventures, stressing, "Society used to consider and view young rich people as those who got their wealth through ritualism."
He noted that most of the achievers we celebrated today were people who, against all the odds, dared to be different and took the bold step to achieve their dreams and aspirations, in spite of the obstacles they encountered.
The Chief Executive Officer of rlg Communications, Mr Roland Agambire, stressed the need for the country to recognise and reward young achievers whose accomplishments in numerous ways had helped to promote the development of the nation.
"The awards scheme is relatively new in our country but has existed in many economies where it has propelled many young achievers to excel in their chosen talents and skills,'' he said.
The Events Director of the Youth Achievers' Awards, Ms Hedwig Naa Tolloo Quist, explained that the awards would only be given to those who had proved their outstanding achievement in the various categories.