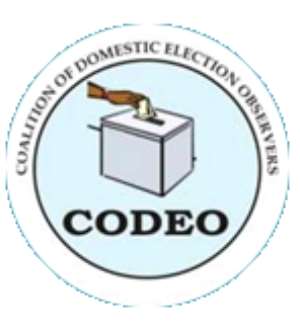 Accra, July 3, GNA – The Coalition of Domestic Election Observers (CODEO) on Tuesday cited an official of the Electoral Commission (EC) for violating the District Registration Review Committees procedure.
The District Registration Review Committees review challenges filed during the Biometric Voter Registration process.
CODEO said in a report made available to the GNA that while in the Central Region, the EC District Officer failed to constitute a Review Committee and personally resolved challenges filed in the district.
In the Ashanti Region, another official ignored the Review Committee's decisions and conducted personal investigations into some of the cases.
It said the official went ahead to release the Voter ID Cards of some challenged registrants to them that created near confrontation between the official and some political party leaders.
The report said several people whose registration were challenged failed to appear before the committee due to difficulties on the part of EC in contacting them while others who were contacted failed to appear.
It commended the EC for adhering to Public Elections Regulations 2012 (C.I. 72) on composition of the District Registration Review Committees.
The CODEO report commended the EC for the manner it conducted the registration of prisoners, mop-up exercises and other electoral activities during the period.
It recommended that the EC should conduct extensive public education on the electoral processes, clarify how eligible voters who had misplaced their old Voter ID cards could vote in the up-coming by-election in Wulensi.
CODEO appealed to the EC to continue demonstrating transparency in the compilation process, including communicating to the public the outcome of the DRRC reviews and the adjudication of cases of multiple registrations.
It urged politicians to be decorous in their public utterances in order not to incite or intensify acts of violence and appealed to state institutions to step up their civic education campaign and efforts to promote peaceful elections.
CODEO reiterated its call on the Ghana Police Service to play its enforcement role with utmost firmness.
GNA