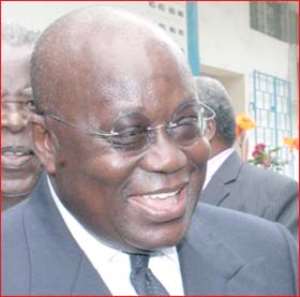 The Coalition for Responsible Opposition (CROP) is traumatized by current crisis in the Akyem Abuakwa Kingdom.
The latest crises stems from a spillover of confusion, brewing in Akufo Addo's family, which coincidentally happen to be the ruling royal elite of the Akyem Abuakwah Kingdom.
Odehye Kwame Boateng, a whistle blower and a royal, has uncovered the biggest high profile corruption ever to bedevil the chieftaincy institution since 18th Century. The accusation that the occupant of the Ofori Panyin Stool, Okyehene AmoatiaOfori Panyinll, is the one sponsoring illegal mining and activities of Chainsaw operators, currently destroying Akyem lands, including sacred lands behind the Okyehene Palace and burial grounds of chiefs in Akyem Abuakwa, is embarrassing as it is despicable and cruel to the poor citizens of Akyem Abuakwa.
These accusations are grave and frightening for two reasons.
First, It suggest that the Okyehene is not only desecrating the heritage and honor of the Ofori Panyin Stool but out of greed working against the interest of his people, who expects nothing, except leadership that enhances social, economic, and cultural development for the community and its people.
Secondly, Galamsay in Akyem Abuakwahland in recent times have led to mass murdering of innocent citizens, encouraged flooding with dare consequences, caused deaforestation of the Akyem forest and caused unimaginable destruction to farms and communities.
Unfortunately, the Okyehene has neither deny the allegations, apologized for his crimes, step-down to allow investigations, nor taken advantage of the courts process to repair his dented reputation if he feels defamed.
Regrettably, the Okyehene, has responded in a manner which suggest that he is not only answerable to anybody but to question his actions constitute a high crime that must be punished severely.
For that reason, he is currently forcibly demanding 72 sheep and 36 crates of schnapps from the whistle blower, Odehye Kwame Boateng. As if that is not enough, the Ofori Panyin Amoatiall has banished the whistle blower.
Also he has further cancelled his name from the royal family and decreed that he is never to attend funeral or any social gathering in the society. Lastly, Odehye Kwame Boateng is never to interact with any Akyem and will not be buried in Akyem land should he be deceased.
Crop wishes to state the following: CROP wishes to commend Odehye Kwame Boateng for being anti-corruption crusader. His action will save lives, protect the okyeman, and restore dignity to the Ofori Panyi Stool. Indeed, we salute and stand with him in this dark days.
The Okyehene must immediately cease the abuse of the rights of the whistle blower, Odehye Kwame Boateng . His actions are crude and out of touch with civilized way of handling disputes. Such an aberration to Ghana's constitution must not be countenance.
We call on the Okyehene, Amoatia Ofori Panyin II, to step down as Okyehene within 72 hours of this publication. This will allow unimpeded investigations to unravel the truth or otherwise of this allegations. Investigations will also purge the Ofori Panyin Stool of current embarrassment. Crop will comtemplate either proceeding with destoolment process or drags the Okyehene to court to respond to his human rights abuses.
The loud silence of Nana Akufo Addo, the anti-corruption crusader, human rights activist and a member of parliament for 12 years is troubling. He has lost his tongue on this one. Is he not concern of the violations of the rights of Odehye Kwame Boateng or the gargantuan corruption involving his family members occupying and surrounding the Ofori Panyin Stool?
Nana Addo must immediately call his family members to order. Their anarchical behavior is stalling social and economic activities in the Akyem community. We also call on him to educate his family that in a democratic regime, it is about institutions not force.
We also urge him to admonish his family about corruption especially those that affect ordinary people.
CROP is deeply worried. We call for the immediate restoration of peace and calm in the Akyem Abuakwakingdom.
Issued on Tuesday, July, 3, 2012 By the National leadership of Coalition for Responsible Opposition (CROP)
For Clarification, Contact Mr Susu Alordey on 0244594893