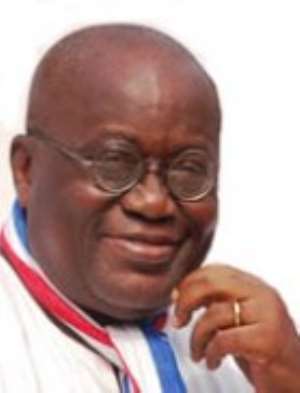 The flag bearer of the New Patriotic Party (NPP), Nana Addo Dankwa Akufo-Addo, has defended his "All die be die" mantra with the explanation that it is not a call to war but for Ghanaians to be ready to defend themselves at all times.
He said the NPP would be the last to destabilise the democratic dispensation of the country.
Addressing the Council of Local Churches in Wa in the Upper West Region Saturday, as part of his five-day tour of the region, Nana Akufo-Addo said the statement "All die be die", which had been twisted for political gain, was not in any way a call for people to be up in arms.
Rather, he said, it was a reawakening call.
"All the major political actors have agreed that we want to go down the path of democracy, which has brought stability to our nation.
Also, if you are playing a game and you respect the rules but the other persons do not and you have a difficulty, what do you do?" he asked.
"Do you sit down and fold your arms behind your back and say you will allow yourself to be cheated or you will act in defence of your right?" he asked.
Nana Akufo-Addo said acting in self defence in the face of cheating or aggression was all that "All die be die" was meant to be.
He said supporters of the NPP had every right, in the face of aggression, to defend themselves.
The flag bearer was not happy about President Mills's posture on issues of electoral violence, saying, "I am not saying this with any bad intent, but it is a matter of fact that I am yet to hear the President express any concern over all these victims of electoral violence that I kept talking about."
"President Mills is supposed to be the father of our nation and when citizens of your nation are brutalised, we expect him to say that it is unacceptable behaviour. We should, therefore, direct some of our attention at him and his party. If really we want peace in this country, that kind of behaviour is unacceptable,'' he added.
He, however, promised that he would play his part to ensure peace before, during and after the December 2012 general election.
Earlier, Nana Akufo-Addo had taken the kick-off at a football match between players from the Lawra-Nandom and the Wa Central constituencies of the NPP at the Wa Stadium.
The match was the final of the inter-constituency football matches initiated by the NPP in the Upper West Region.
Wa Central beat Lawra-Nandom 2-0 to win the competition.
The Wa Central team was presented with a trophy donated by Alhaji Condition, a former Upper West Regional Chairman of the NPP.
It also received an undisclosed amount of money.
Graphic.com.gh