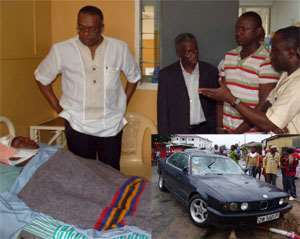 The accident which drew blood from five police recruits in Koforidua last week and attracted the empathy of Ghanaians has been blamed on an over-speeding motorist.
For us and many who abhor the blank cheque given to motorists to do as they please on the highways, Ghanaians are all paying a price for the action of the Police Administration, regardless of the defence the latter would likely put up on the pages of newspapers.
The Eastern Regional Commander of the Motor Transport and Traffic Unit (MTTU) of the Ghana Police Service, Chief Superintendent James Sarfo-Prempeh, obviously overwhelmed by what happened, cautioned motorists to observe speed limits as specified by the authorities.
Exceeding speed limits is perhaps the most breached traffic regulation in the country, with many motorists falling foul of it. All categories of vehicles- motorcycles to commercial buses- cruise within built-up areas as though there are no traffic laws regulating over-speeding. With policemen virtually told to fold their arms and look on passively as the breach continues, we can only pray against the murderers behind the wheels.
Chief Superintendent James Sarfo Prempeh's caution to motorists is the best he can do in the face of the order to the police not to undertake motor checks on the roads, even as recklessness on the roads continues to claim lives and maim innocent travelers.
The police officer's counsel is a good one but unfortunately like hot air, it would just evaporate into the atmosphere with no effect.
Should the blame for avoidable accidents be placed at the doorstep of those who issued the unusual signals from their headquarters desks to MTTU personnel to suspend road checks? We think so.
While we pray for the speedy recovery of the young men who are recuperating at the hospital, we enjoin the Police Administration to take another look at the 'stop the road check' order.
We do not know what informed the decision but we can bet that the fallouts do not support the maintenance of safety on our roads.
The recent directives and counter-directives on motorcycle checks which occurred a few weeks ago and whose story appeared in this newspaper, are related to the subject under review. They do not augur well for the maintenance of order on our roads, offering an opportunity to motorcyclists to jump red lights at traffic intersections in especially Accra.
We would rather that such confusion does not happen in the issuance of orders because when it does, it has the tendency to erode confidence in the leadership of the Service and give room for gossips among the rank and file.
When the authority of a Superior Officer or a Commander of a unit is undermined deliberately through such counter-directives, it lowers morale and creates bad blood both of which are parlous factors in the efficient management of a regimental organization such as the Police Service.