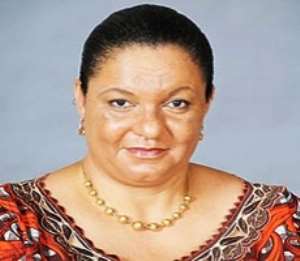 The Ministry of Trade and Industry has said the monitoring exercise by the Inter-Agencies Task Force on non-Ghanaians in illegal trading in the markets, would commence on Tuesday, July 3.
Ms Hanna Tetteh, Minister of Trade and Industry addressing a press conference in Accra, said the monitoring exercise would ensure that non-Ghanaians fully complied with the Ghana Investment Promotion Centre (GIPC) laws.
"The task force will move in the markets to shut down shops of non-Ghanaians who flout the laws of the land," she said.
She said provisions in the GIPC Act 478, was applicable to Ghanaians and citizens of the Economic Community of West African Countries (ECOWAS), hence the need for non-Ghanaians to comply with the minimum investment requirement of $300,000.
The Sector Minister noted that the monitoring exercise was not an attempt to destabilise the peaceful investment atmosphere for businesses to flourish and called on interested investors to abide by the laws of the land.
Advertisement
"The law does not single out citizens of any particular country for compliance. The exercise is to ensure that non-Ghanaians engaged in trading abide by the laws as their Ghanaian counterparts do," she added.
Ms Tetteh said it was government's duty to protect interest of the citizenry and ensure that non-Ghanaians obeyed the laws and contribute to the country's development.
She said a team from the ECOWAS Parliament would visit Ghana to monitor events on the new development adding that the Ministry would give full credence to the provisions of the protocols to prevent breach of signatory.
Ms Tetteh called on non-Ghanaians and Ghanaians to register their business entities with the Ghana Revenue Authority and Registrar General's Department.