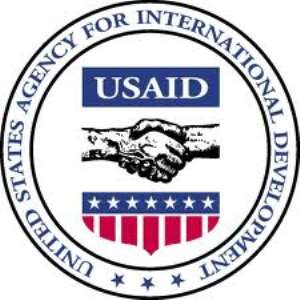 Jema (B/A), June 29, GNA – The United States Agency for International Development (USAID) in conjunction with Ghana Government, has agreed to construct various developmental projects for 34 deprived districts
throughout the country.
The programme will comprise the construction of 50 Kindergarten blocks , 49 Junior High Schools (JHS), 45 toilets and 15 educational offices. USAID is providing 19.8 million dollars in the form of a grant with GHc2.6 million coming from the Ghana Government.
Dr. Felix Nelson Amoakoh, Director of Funds, Management and Procurement Unit (FMPU) of the Ministry of Education (MOE), announced this at a sod-cutting ceremony at Jema in Kintampo South District of Brong-Ahafo Region.
He expressed the hope that the Kintampo South District Assembly, a beneficiary district, would collaborate with the Ghana Education Service (GES) and help the contractor to do a good job to complement the efforts of the USAID and Government.
Mr. Kwadwo Nyame Datiakwa, Kintampo South District Chief Executive, expressed gratitude to the USAID and the Government for sourcing funds for the project, which, he said, would help to motivate staff of the GES to improve their performance in uplifting the fallen standard of education in the area.
He assured the contractor of the Assembly's support towards the early completion of the project to give meaning to the philosophy of the National Democratic Congress (NDC)'s 'Better Ghana Agenda'.
The DCE appealed to the contractor to employ the youth in the area as a means of creating jobs for them.
Mr. Dan Brinsley Antwi, District Director of Education, lauded the efforts of the USAID in providing office accommodation for the GES, noting the project had come timely when the office was lacking accommodation for its staff.
He asked the contractor to ensure completion of the project within the stipulated time to enable the Service to "feel comfortable" and also enhance teaching and learning.
GNA