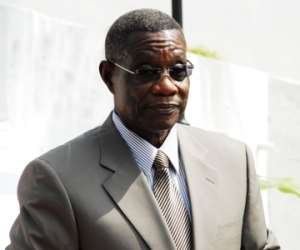 After a very long silence by President Mills in the wake of several happenings in the country, rumours started emerging that the number one man was not well. Nothing much was done by the government's communication team to dispel these rumours about the health of the president.
Then one morning the rumours blossomed to a gargantuan one to the effect that; President Mills was dead! So profuse were the rumours that, the president was 'forced' to admit for the first time that, he was sick and travelling to the United States of America for a 'routine medical check-up'.
To prove that he was not dead, President Mills before his departure to the US for the check up was seen jogging in his suit and kicking his legs as if he was to take a penalty kick during a World cup soccer tournament!
After the president left for the US, the debate shifted from whether he was sick or dead to who ignited the rumours. The NDC was very loud in accusing the NPP of wanting the president dead.
A deputy minister of information Samuel Ablakwah went over drive to suggest that, any time the NPP thought of the death of the president, somebody within the NPP dies! He went ahead to give a childish list of people who were connected to the NPP but died in the past because they "wished" the president dead.
Just as Samuel was basking in these churlish talks, then the national chairman of the NDC, Dr. Kwabena Adjei stated emphatically that: 'Rumours of the death of President Mills originated from within the NDC and not the NPP or any other political party"
When Dr. Kwabena Adjei made this startling revelation, Samuel and his colleagues in the NDC communications team and the Ministry of Information vanished into thin air! They were in summary disgraced to the core.
My view is that, it is not a good thing for the health of anybody- not only the president of the republic of Ghana to be politicized; but when a chief is beheaded in the home region of the president and he is mute and the body of a chief Imam in Hohoe is exhumed over a disagreement that could have been resolved quickly and the president is quite and unwilling to comment on such issues, 'Who born dog' to prevent any wild rumours about his health including his death?
Now that, it has emerged that, those who wanted the president dead are people from within the NDC will they also die according to the teenaged analysis of Samuel Ablakwah?
The other question is that, was it necessary for president Mills to jog to prove his health? The president must be told that, it is medical history that proves one's health status not jogging or trotting at the airport!
By Akilu Sayibu Tamale-North Email:[email protected]