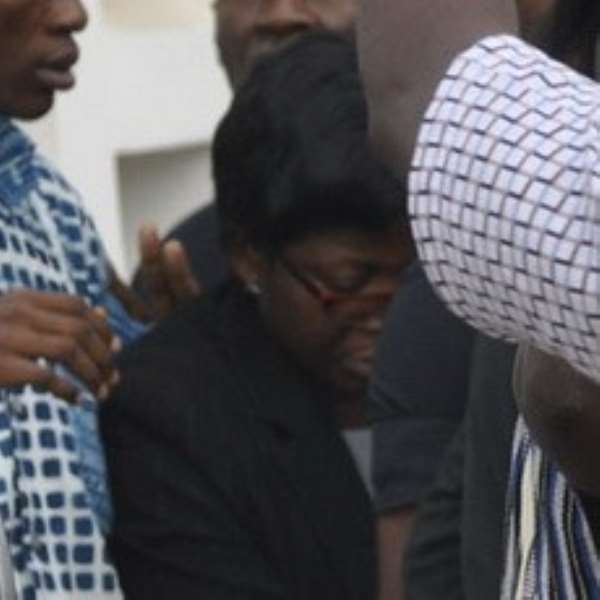 DSP Tehoda
Head of Administration of the Ghana Police Service, COP Rose Bio Atinga has called the bluff of lawyers of DSP Gifty Tehoda who have sued the police administration and are asking for their client to be reinstated.
DSP Tehoda was unconditionally discharged by the court, Thursday after days of trial in the controversial cocaine turned soda case.
She was charged with abetment and stealing of cocaine and has been in an out of court for nearly two months.
During her trial, she was interdicted by the Police Administration who accused her for over stepping her bounds.
Having been discharged Thursday, her lawyer, Oliver Gyeble served an ultimatum to the Police administration to immediately reinstate his client.
He has also filed an application seeking to prohibit the police administration from conducting a quasi judicial investigation into the case.
He told Joy FM the police administration is relying on a flawed proceedings from BNI investigations which states that DSP Tehoda had some contact with the suspect in custody and since court has not been able to establish that, the Police cannot rely on that to interdict DSP Tehoda.
Oliver Gyeble said no evidence was brought against his client by the prosecution which culminated into her unconditional discharge.
He said now that DSP Tehoda has been discharged, there is no basis for her interdiction hence her employers must reinstate her into the Police Service.
But COP Rose Bio Atinga, said DSP Tehoda and her lawyers have misunderstood the matter, explaining that the service enquiry is entirely different from the court proceedings.
According to her DSP Tehoda is being investigated for her conduct in interrogating the suspect in police custody even when she was not the investigator handling the case.
She added it has been found that DSP Tehoda on some occasions moved the suspect from custody without authorization.
COP Atinga stated that the conduct of DSP Tehoda was against the rules and regulations of the Ghana Police Service.
According to her, DSP Tehoda's conduct was "untenable" adding that the Police Service would not be cowed into suspending their service enquiry into the conduct of DSP Tehoda.
She stated emphatically DSP Tehoda's interdiction would continue till the end of the service enquiry.
She was also unequivocal in stating the police administration is ready to meet lawyer Gyeble in court.