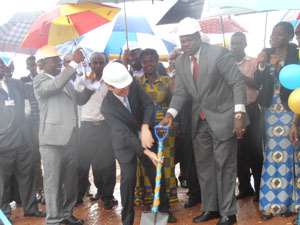 THE NOGUCHI Memorial Institute for Medical Research, (NMIMR), a semi-autonomous institute of the University of Ghana is putting traditional herbal plants to good use for the development of medicine.
In partnership with Japan Science and Technology Agency, and with support from Japan International Cooperation Agency (JICA), Noguchi has started a programme dubbed the 'Studies of Anti-viral and Anti-parasitic Compounds from Selected Ghanaian Medicinal Plants.'
The aim of the programme is to contribute to the development of effective drugs for treating infectious diseases by extracting anti-HIV and anti-parasitic compounds from indigenous plants.
As part of the exercise, the government of Japan in 2010 decided to provide a grant of ¥610million ($7.6million) through the project for the introduction of Clean Energy by Solar Electricity Generation System.
Naoto Nikai, Japanese Ambassador to Ghana, on the occasion of the sod-cutting ceremony for the Installation of the Solar Electricity Generation System at the Institute Tuesday, noted that his government's support to the institute would include the procurement and installation of equipment for solar electricity generation and training of experts.
'I hope the installation of the solar electricity generation system would contribute to Ghana's efforts to diversify its renewable energy sources and thereby help Ghana accelerate its efforts toward climate change mitigation.''
Vice Chancellor of the University of Ghana, Prof. Ernest Aryeetey who chaired the ceremony commended the Japanese government and JICA for the support.
He said the long lasting collaboration between the institute and the Japanese government in the field of medical cooperation has provided the opportunity for Japanese and Ghanaian medical scientists researching into diseases of mutual interest.
'This relationship eventually resulted in the establishment of the Noguchi Memorial Institute in 1979.'
Advertisement
In a welcome address, Prof Alexander K. Nyarko, Director of NMIMR noted the sod cutting ceremony marked the commencement of work to install solar panels for the generation of electricity for the institute.
Highlighting a brief history on the relationship that exists between the institute and the Japanese Government, he traced it to the 1920s during the worldwide yellow fever outbreak when the Rockefeller Foundation dispatched Dr. Hideyo Noguchi to the then Gold Coast to conduct investigations and research into the disease.
According to him, unfortunately, Dr. Noguchi contracted the disease which claimed his life at the Korle Bu Hospital in 1928 and since his death NMIMR was born.
Japanese engineers from Marubeni Ltd are on site to commence work for the installation of the panels to generate 315kVA of electric power at the institute.
When completed, the institute will have the capacity to generate a total of 715 kVA of power for the University grid.
  By Stella Danso Addai