Freed piracy hostages back in South Africa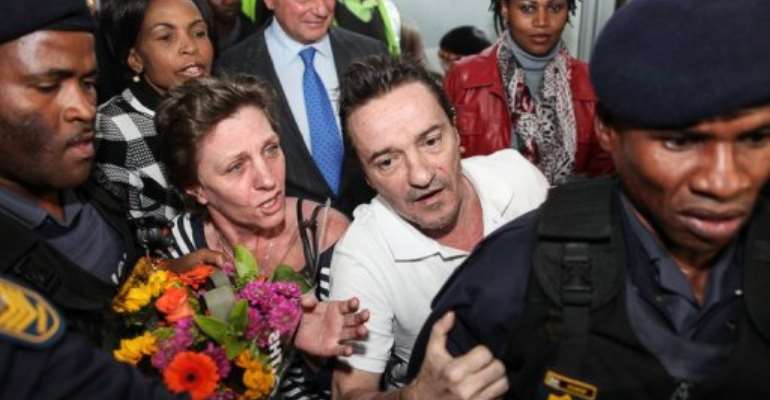 JOHANNESBURG (AFP) - A South African couple rescued from Somali pirates arrived at an emotional homecoming Wednesday after being "treated worse than animals" while in captivity for 20 months.
Debbie Calitz and Bruno Pelizzari, who were hijacked in October 2010 while sailing in the Indian Ocean and freed only a week ago, flew into Johannesburg where they were met by family.
"Some of the conditions weren't very humane. We were treated like untouchables, we were treated worse than animals at times," Calitz told reporters during a tearful press conference at OR Tambo International Airport.
"We weren't fed very well and we were handcuffed permanently, all the time, 24 hours. We weren't allowed to bathe much. Luxuries, we weren't allowed luxuries which meant no soap. We had one and a half litres of water a day between us, that was for the toilet as well. It was just terrible."
Somali authorities last Thursday said the pair were freed in an overnight joint raid by security forces and the army from "Al-Qaeda-affiliated" insurgents, with South Africa saying Italy was also involved.
It is not clear if a ransom was paid for the couple's release with Calitz saying that she believed it was a rescue operation.
"It was between the Somali government and the Italian government, they were the ones that worked together to help us, to be rescued. We were rescued, as far as we know, we were kept in the dark so we don't know very much," she said.
The couple was sailing off the coast of Kenya in October 2010 when their yacht was hijacked by 12 pirates who set course for Somalia and took the couple ashore at Baraawe.
"Thank you for not giving up on us," said Calitz.
"We've got to let it out in the public so these people can stop what they're doing. They've got no right to do what they do to people," she added, hitting out at the captors.
South African foreign minister Maite Nkoana-Mashabane said the three governments had worked together in what was a "very very difficult mission".