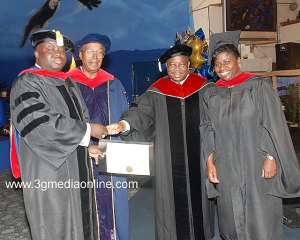 Bronx, NY
On Saturday, June 23, 2012, The Ambassadors College of Ministries and Theological Seminary held its 30th Annual Holy Convocation and Conferring of Degrees and Diplomas. The ceremony took place at the New Covenant Dominion Cathedral, Bronx, New York. The 2012 Recipient of Honorary Doctor of Ministries Degree was Rev. Dr. Akwasi Agyeman Prempeh, Founder and General Overseer of the Springs of Joy Ministries International, headquartered in London, UK with several other branches in Ghana, France, Germany and the USA.
Presenting the diploma to the recipient was Rev. Mardette Alexandar, Archbishop Dr. Joseph A. Alexander, Chancellor/President of The Ambassadors College of Ministries and Theological Seminary/General Overseer of New Covenant Dominion Cathedral and Bishop Dr. Adell Whitenburg.
In his acceptance speech, Rev. Akwasi Agyeman Prempeh expressed his gratitude to God, the Board of Governors and Faculty members of the college and Seminary. He also thanked his family, partners and those who have supported his ministry. It was his wish that the honor bestowed upon him would be a blessing also to all.
Advertisement
Other honorary doctorate recipients were; Josephine E. Eggah and Gideon Eggah. Dr. Josephine Eggah, Founder and Presiding Bishop of New Birth Bible Church with Dr. Gideon Eggah as the Administrative General.
The Class of 2012 included; Post Graduate Degree in Theology to Ramseyer Awuku. Ramseyer Awuku is a powerful attorney and well known in the African community in the USA. Other recipients were; Garth Allen and Levi Cleare Jr. Bachelors in Theology Degree; Doreen Bowery, Ubong David, Felix Gyau/Valedictorian, Seth Nti-kye, Samuel Stobbs and Peter Tetteh Temanu. Elsie Kwapong-Osae, Associate Degree/Salutorian and Diploma; Joane Challenger
Congratulations to all the 2012 recipients.

www.3gmediaonline.com