Mali rebels open fire on protest, one killed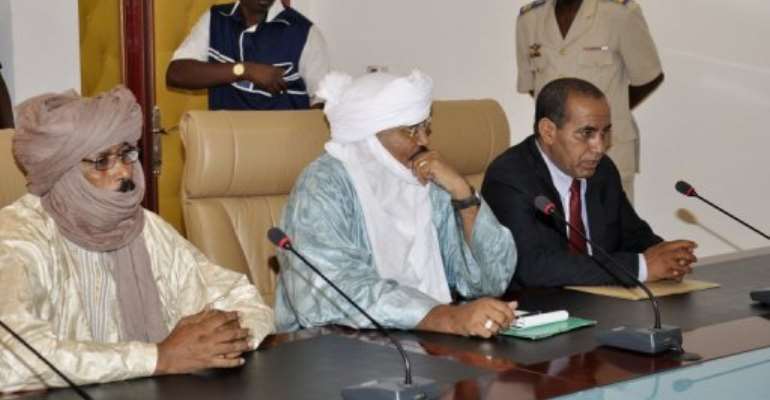 BAMAKO (AFP) - Malian rebels opened fire on protesters in the northern town of Gao Tuesday, killing at least one person and leaving several injured, witnesses told AFP.
The march was organised to protest the death of a local government official who was shot on Monday in Gao, which was seized by Tuareg and Islamist rebels nearly three months ago.
"We are marching to protest the death of our municipal councillor," said teacher Oumar Diankante, who said it was the Tuareg rebels' National Movement for the Liberation of Azawad (MNLA) who opened fire on the protesters.
"I have seen one person dead already, others say there are several dead," he added.
"This is serious! The rebels (MNLA) are shooting at us because we are marching," another witness said on condition of anonymity.
A hospital source in Gao said "five people with bullet wounds" had been admitted, but that it was not clear whether it was the MNLA or Islamist group Ansar Dine (Defenders of Faith) who had opened fire.
Gao is one of several main towns in Mali's vast north, comprising an area larger than France, which were seized by two rebel groups with very different ideologies and objectives, in the wake of a March 22 coup d'etat in Bamako.
The Tuareg want independence for their homeland which they call Azawad, a demand which has led to several rebellions in past decades as the desert nomads felt marginalised by the southern government.
Ansar Dine want an Islamic state based on strict sharia law which they have already begun implementing.
Last week a young couple has been whipped for having a child out of wedlock, smokers have also been whipped and women forced to wear veils.
The Islamist rebels are backed by Al-Qaeda in the Islamic Maghreb (AQIM) and a splinter group called the Movement for Unity and Jihad in West Africa (MUJAO) -- both involved in kidnapping foreigners for ransom.
The current occupation has raised concerns in the west that Mali could become a hive of terrorist activity.
Intermittent shooting could still be heard in Gao by early afternoon, witnesses said, adding that youths had erected barricades around the town and were brandishing the Malian national flag.
"We don't want the MNLA, or MUJAO here in Gao. The Malian army must come quickly to help us chase these armeed criminals," said Moustapha Maiga, a local government official from a nearby town.
Gao was the first town in the zone to protest against the occupation when armed men in May stopped youths from playing football and watching television, provoking violent anti-Islamist protests.