Angola refugees trekking home 10 years after war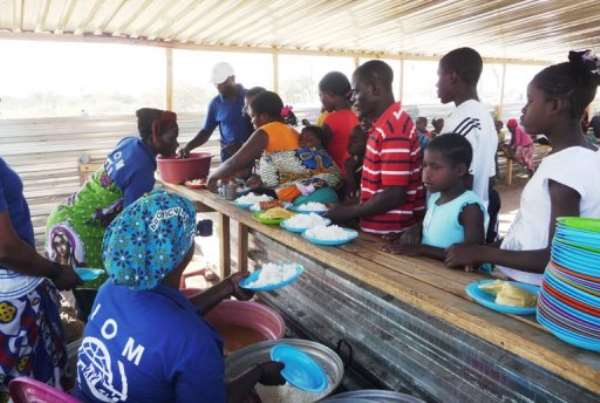 Angolans are returning because their refugee status is expiring but they face an uncertain future. By ESTELLE MAUSSION (AFP)
NAMACUNDE, Angola (AFP) - Thousands of Angolan refugees are trekking home hoping for a new start in life a decade after the end of brutal wars that drove them to neighbouring countries.
On June 30 their refugee status expires so many are returning to Angola, but they face an uncertain future in a country plagued by poverty despite its booming oil-rich economy.
"We fled the country in 1992 to avoid the battles and we went to Namibia where we had a good life," said Evarista Celestina after she arrived at the Namacunde reception camp 10 kilometers (six miles) from the border.
"But our status as refugees wasn't permanent so it's time to go back," said Celestina, although two of her children stayed in Namibia to finish their studies.
Around 4,000 Angolans have lived at the Osire refugee centre in central Namibia under the protection of authorities and the United Nations.
Thousands more are returning from Angola's other neighbours Zambia and the Democratic Republic of Congo.
They fled Angola over 40 tumultuous years of the country's history, which included a violent liberation war against colonial power Portugal (1961-1975) and a bloody civil war that started soon after independence (1975-2002).
Now 10 years after peace was secured, Angola has become Africa's second-largest oil producer after Nigeria, with eight percent economic growth forecast for this year.
Reconstruction efforts and the Angolan authorities' commitment to repatriate their citizens prompted the decision to end the refugees' status.
Around 14,000 Angolans registered with the UN High Commissioner for Refugees (UNHCR), which facilitates the returns, between the end of last year and this May, while 35,000 others said they wanted to return before the end of June.
Every week for the past month convoys with buses and police vehicles have brought a few hundred Angolans from Namibia to Namacunde.
They come with plans for a new life.
Alexandre Mote, 54, wants to a job and then reunite his family which has been scattered between Angola and Namibia.
"I'd like to find a job to have social security and be a dignified citizen. I also hear Angola's economy is growing very quickly, so I'd like to benefit from that," he said.
But the prospects for most are slim.
The UN children's agency UNICEF estimates that 87 percent of the urban population lives in shacks.
For over a year Angolan authorities have crushed protests demanding change under the government of President Jose Eduardo dos Santos, Africa's second-longest serving leader with nearly 33 years in power.
Another uncertainty is the welcome the returnees will receive from local communities, which the International Organisation for Migration (IOM) will address in two-year projects.
"People are happy to see their country isn't at war anymore, but after all these years they return disoriented and worried about how their families will survive," said Castro Mawonson, 48, at the Namacunde camp.
After a welcome briefing, the former refugees are given food and allocated one of the 30 tents in the camp, which can house 400 people with ablution blocks, a medical post and communal kitchen.
Families can arrange identity documents at the centre, explained Tiberia Hamuse, provincial director of the social reintegration ministry.
"They also receive a reintegration kit with utensils and tools, and food to last a month," she said.
The UNHCR gives $200 (160 euros) to every adult and $100 for every child to help them resettle.
After a three-day orientation the IOM transports the newly-returned to their home province or the area where they want to resettle.
The prospect is daunting for some who are discovering their fatherland for the first time.
"I've never lived here and I don't know anything about Angola, so I've no idea how it will go," said an 18-year-old girl, Nanda.