S.Africa's ANC to discuss land reform, mining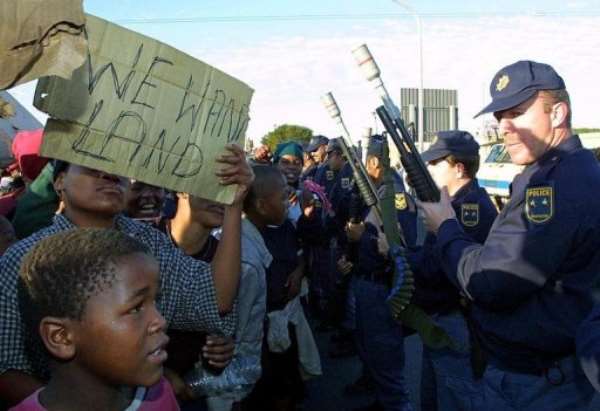 Radical elements in the ANC youth league have called on the government to forcefully expropriate white-owned farms. By Anna Zieminski (AFP/File)
JOHANNESBURG (AFP) - South Africa's ruling African National Congress (ANC) on Tuesday starts a policy conference that may push for dramatic changes to the country's land ownership rules and to the mining sector.
Amid lagging economic growth and increased inequality, the party hopes to begin re-energising South Africa by determining a roadmap for the next five years.
"The policy conference will represent a paradigm shift in the approach of the ANC towards the economic development of our country," one of the discusion documents said.
Around 3,500 delegates from the country's nine provinces are expected at the four-day conference in Johannesburg, but most of the sessions will be closed to the public.
South Africa needs a "second transition", the party said.
Eighteen years after the first transition -- the political change from white minority-rule to democracy in 1994 -- critics accuse the ANC-government of not doing enough to reduce poverty and inequality.
"We need a vision that focuses on the social and economic transformation of South Africa over the next 30 to 50 years" to change "a structural crisis we inherited from the apartheid economy," according to the policy document.
Radical elements in the ANC youth league have called on the government to nationalise mines and forcefully expropriate white-owned farms.
The conference will discuss reforming the mining sector, so that the state receives more revenue from its mineral resources; and one conference document advocates the use of expropriation "where necessary".
"The willing-buyer-willing-seller principle constrained the pace and efficacy of land reform," it says.
Little progress has been made to restore land to people forced away before and during apartheid. White South Africans -- around 10 percent of the population -- still own as much as 80 percent of the land.
"The success of the conference is the convergence of views from the branches of the ANC that gives a direction as to where we're taking not only the ANC but the country in order to meet the challenges that we face now, the challenges of unemployment, of poverty, of inequality," the party's head of policy Jeff Radebe told AFP.
The conference will make policy suggestions to be considered at the ANC National Conference in December, when the party will hold its leadership election.
Though the leadership campaign will not be discussed officially at Tuesday's conference, unofficial lobbying among delegates is expected.
President Jacob Zuma is considered the frontrunner.