Kenya grenade attack death toll rises to three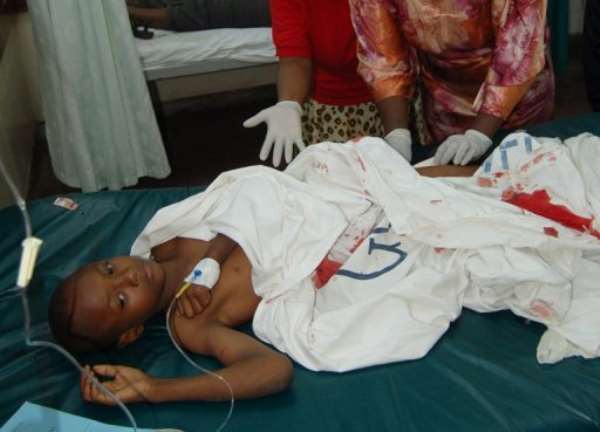 . By (AFP)
MOMBASA, Kenya (AFP) - The death toll from a grenade attack on a bar in the Kenyan city of Mombasa rose to three Monday, dealing a fresh blow to the government's efforts to secure the country and revive tourism.
The latest in a string of such attacks in the east African nation was likely to be blamed on Somalia's Islamist Shebab rebels and came after specific foreign warnings on travel to the resort town were pooh-pooed by Kenya.
"Two of the victims died in hospital. One had died earlier at the scene of the blast," Kenya Red Cross spokeswoman Nelly Muluka said.
Police earlier said one person had died in the blast at the Jericho bar, in the densely populated Mishomoroni district, when football fans were following the Euro 2012 quarter-final match in Kiev between England and Italy.
Provincial police chief Aggrey Adoli said 30 people were still in hospital with injuries from the blast Monday morning, while the Red Cross put the number at 25.
"One of those wounded people is assisting us because he is providing contradictory statements. He is being held as a suspect," Adoli went on.
It was not clear who was behind Sunday's attack, but since Kenya sent tanks and troops into Somalia late last year, grenade and other attacks have intensified in Nairobi, the Mombasa area and in eastern towns and refugee camps close to the border.
The Kenyan authorities often blame such attacks on Somalia's Al Qaeda-affiliated Shebab rebels.
Sunday's attack came just two days after the United States had warned its citizens of an imminent threat of such an attack in Mombasa and Kenyan police had arrested two Iranians on suspicion of planning bomb attacks.
On Friday, the US embassy said all government travel to Mombasa was suspended until July 1.
Just hours before Sunday's attack, a senior Kenyan official had denounced the US warning.
"It is a reckless advisory and it was totally uncalled for," the head of the Public Service and Secretary to the Cabinet, Francis Kimemia, told journalists in Mombasa.
France's embassy in Nairobi also warned its citizens to be "extremely vigilant" in Mombasa and the surrounding area.
Just days earlier Kenyan police had detained two Iranians: one in Nairobi on Wednesday, the other a day later in Mombasa.
They were suspected of having links to a network planning bombings in Mombasa and in the capital Nairobi, said police, when they announced the arrests on Friday.
Their interrogation had led them to seize two small bags of chemicals that would serve to make explosives, police added.
Then in a separate development, police in Nairobi seized bomb-making materials from two young men stopped during a routine patrol, according to a police officer who spoke on condition of anonymity Saturday.
Sunday night's attack was just the latest in a series of such incidents this year.
A bombing at a Nairobi shopping centre in May left dozens wounded.
In mid-May four people were wounded when armed men opened fire and threw grenades at the Bella Vista restaurant, which is popular with tourists, in Mombasa.
At the end of March one person was killed and 18 were wounded in twin grenade attacks on a restaurant in Mombasa city and a church gathering in the nearby town of Mtwapa.
Mombasa is a key hub for Kenya's tourism sector, which employs tens of thousands of people and is one of the country's top sources of foreign currencies.