Liberia extradites 41 unrest suspects to I.Coast: AFP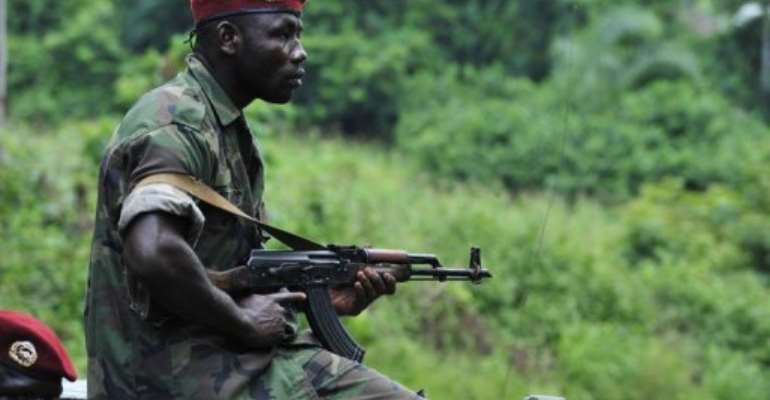 TOE'S TOWN, Liberia (AFP) - Liberia on Saturday extradited 41 Ivory Coast nationals for their role in last year's bloody post-electoral violence in the neighbouring West African nation.
The handover witnessed by an AFP journalist took place in the northeastern border region of Toe's Town and followed a Liberian court ruling that the men be sent back home to face justice.
A four-truck convoy escorted by heavily-armed UN troops and Liberian police brought the Ivorians from the central prison of Zwedru to Toe's Town, 45 kilometres (30 miles) away at dawn.
Grand Gedeh county attorney John Gabriel said the move had been kept quiet because relatives of the Ivorians had threatened to set up roadblocks to stop the extradition.
After handover formalities lasting about an hour the handcuffed Ivorians were put into trucks on the other side of the border and driven away.
They were arrested on April 19 last year by United Nations forces as they tried to cross the border into Liberia with cars, guns and ammunition shortly after the capture of former Ivorian president Laurent Gbagbo.
Gbagbo's refusal to accept election defeat to current Ivory Coast President Alassane Ouattara led to a four-month conflict in the country that claimed some 3,000 lives.
Gbagbo was captured on April 11, 2011 and has been in custody in The Hague since November on allegations of crimes against humanity.
Many of his supporters fled to neighbouring countries, including Liberia.
Two weeks ago 22 people, including seven UN peacekeepers from Niger, were killed in two separate attacks in western Ivory Coast, which Ivorian officials say they believe originated in Liberia.
Shortly before the attacks Human Rights Watch issued a report saying at least 40 people had been killed since July 2011 in raids from Liberia by diehard Gbagbo supporters.
More than 12,000 people fled their homes as a result of the latest attacks, according to the United Nations, whose peacekeeping force in Ivory Coast has stepped up support for the Ivorian army in the area.
The UN has called on Ivory Coast to ensure security in the region, citing a "climate of fear", while Ouattara's government has said it is seeking 10 people in connection with the attacks, including Gbagbo's former close ally Charles Ble Goude.
Goude, head of a pro-Gbagbo youth movement who has been on the run since the ex-president's fall, has denied involvement.