STOP ATTACKING PERSONALITIES-PRAMPRAM CHIEF WARNS!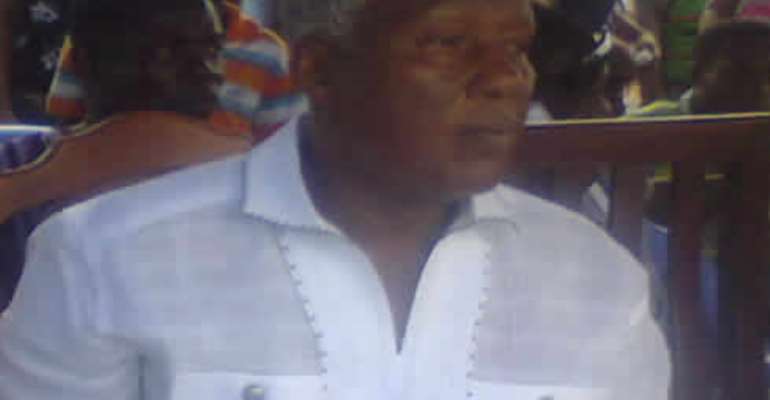 The Prampram Traditional Council has condemned the issues raised by the chief of Ningo (Nene Attiapa III) concerning the naming of Prampram as the district capital for the fresh created Ningo-Prampram District Assembly.
Nene Kanor Attiapa III Mankralo, also the acting President of Ningo Traditional Area forced his chiefs, Assembly Members and Citizens for partaking in government activities.
A chief has no legal right to force his citizens under our constitution but rather bridge with government to bring development to their communities - he noted.
Nene Kanor Attiapa III actions are purely politically motivated since all the 'so called' Ningos around him on his press conference are the New Patriotic Party – he accused.
Once more, it is inevitable fact that the Mankralo and his people have benefited immensely from the Member of Parliament Hon. E.T Mensah's initiatives.
Besides, Hon. E.T Mensah came to complete the Prampram road started by the Ex-member of parliament Hon. B.B Kabu. Our civic roads were planned and built by Prampram Youth Association and was just floored by the government.
Initiate your own programmes and invite the government to offer help, don't solely rely on government - he advised.
We challenge Nene Attiapah III and Ebenezer Amanor to initiate programmes and bid for support from the government and face the music for developing Ningo. If they can't, then they must work out to fix an energetic paramount chief to lead development in Ningo Traditional Area and end throwing dust into the people's eyes.
Yet, we the people of Prampram are not at loggerheads with the Ningos fighting for their own district. Also, we want to draw their attention to the fact that districts are not created out of poverty, deprivation and under-development as stated in their press release.
Additionally, for the Ningos to claim that they have seven-two (72) towns and villages and two (2) area councils as their centre capital ahead of Prampram is dirt cheap. The question the is, would one prefer eighty (80) settlements made up of two (2) or three (3) farm hats that could not even be accessed for property rates towns like Afieya, Dawhenya, Mataheko, Prampram etc. which has the first class buildings, where much revenue is already being generated.
Present-day records at the Dangme West District Assembly give evidence to this. As a youth leader of the Ningos (Ebenezer Amanor), you should educate yourself with histories presented at your area council.
Lest I forget, for the Ningos to claim that, they existed longer before Prampram Traditional Area, then I ask, how come Prampram is far ahead of Ningo interms of development even when they great scholars schooled at Prampram.
Concluding, the dint that Nene Attiapa III and Ebenezer Amanor (the chairman of the Ningo Youth) are creating is a joke. We would like to hark back our brothers and sisters of Ningo of the common axiom which goes; ''united we stand, divided we fall''.
We therefore entreat them to reconsider their decisions and join hands with us to make Ningo-Prampram District Assembly grow from strength to strength.