Ghana's stored wealth in urban garbage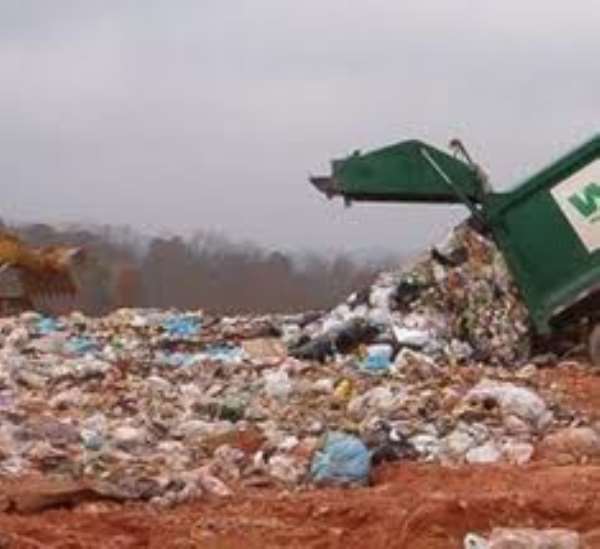 A recent World Bank report on the state of municipal solid waste around the world predicted a sharp rise in the amount of garbage generated by urban residents from the current 1.3 billion to 2.2 billion tonnes per year by 2025.
According to the report, the annual cost of solid waste management is projected to rise from the current $205 billion to $375 billion, with much of the increase is coming in rapidly from growing cities in developing countries.
Ghana is surely not exempt from the consolidated data on waste generation, collection, composition, and disposal.
The rapid growth in the country's urban population calls for urgent attention in resource mobilization "to reduce, reuse, recycle, or recover as much waste as possible before burning it (and recovering the energy) or otherwise disposing of it", as observed by Rachel Kyte, World Bank's Vice President for Sustainable Development.
It has been stated that a city that cannot effectively manage its waste is rarely able to manage more complex services such as health, education, or transportation.
Managing solid waste does not only come at huge financial cost to the country– in areas of collection and disposal – but poses serious health risks to most communities.
Waste disposal constitutes one of the major environmental sanitation challenges to city authorities in Ghana.
Thousands of tones of solid waste are generated daily, most of which are dumped at disposal sites, some ending up in drains to cause environmental havoc such as flooding.
Waste management firm, Zoomlion Ghana has established a waste-to-compost plant to convert organic waste into fertiliser to boost agriculture production.
But more of such initiatives are required for the country to benefit from generated garbage.
An innovative social enterprise has set out to rescue some of the millions of plastic trash and other waste materials from Ghana's waste stream by turning such waste into high fashion goods whiles creating employment opportunities, restoring dignity and financial independence for the youth.
The Recycle Not A Waste Initiative or RECNOWA trains and employs street youth from disadvantaged communities to clear their streets of such waste and applying creative talents to transform them into handmade designer products.
The Initiative currently engages about 25 young people in the Greater Accra Region but plans to scale up to other regions of the country.
"We've been contributing our quota to help the city waste management services and whatever Zoomlion [Ghana Limited] and other players in the field are doing. Apart from that we've also been able to create employment opportunities and getting people who might not have anything from just taking the trash and making some money", stated Kwaku Yamoah Kyei Co-founder and Global Strategist of the Initiative.
Processed products from the waste materials include bags, wallets, jewellery, footwear, furniture and home décor that are ethically produced and eco-friendly.
The products are mainly patronized by foreign tourists though Ghanaians are also fascinated by the artistic designs and creativities.
Kwaku has declared the readiness of RECNOWA to support the youth in local communities to tap into opportunities in waste recycling to be financially independent.
"It is not only about responding to the call of protecting mother nature but it's also about opportunity for yourself to create something for yourself… and our doors are always opened and we're ready to share with other young people who are interested in replicating such a project", urged the RECNOWA Co-founder.
Human waste could also become a precious commodity in parts of Ghana with an ongoing solution to transform fecal sludge treatment into a profit-making venture.
Waste Enterprisers Limited, a sanitation and waste energy company, is replacing the outmoded concept of disposal-oriented treatment with a technology and business model for producing biodiesel.
The firm has developed innovative ways of reusing human waste with the aim of improving sanitation services for the poor whilst restructuring the economics of sanitation in the country.
Another Chief Operations Officer of Waste Enterprisers, Timothy Wade says the fecal sludge-to-biodiesel plant would create a sanitation revolution in Ghana.
"Our founding philosophy is that there is energy in waste and that waste should be treated like a resource and not thrown away. So we're piloting several different businesses in order to take waste and recycle it into a usable product", he stated.
With millions of tons of human waste being dumped into the environment everyday, the result is significant damage to public health and the environment.
The biodiesel plants can eliminate dumping of fecal sludge into the environment while simultaneously offsetting fossil fuel consumption.
"We hope that within 18-24 months, we'd actually be able to build and commercialize a full-scale plant that will be treat the equivalent of 100 truck load of waste everyday", noted Timothy.
According to him, financial incentives from the project would be used to service septic tanks and latrines in poor settlements.
Solid waste currently constitutes an environmental menace to Ghanaian cities, but there surely exist an inherent potential for wealth creation if the garbage can be managed efficiently and effectively.
Solid and plastic waste could become expensive raw materials for Ghana's green economy when projects like the RECNOWA and Waste Enterprise projects are scaled up in the country.
These projects would also contribute employment creation and unleashed the country's wealth stored in garbage, especially in registering projects to benefit from the global carbon market.
Ghana would then be positioned to tap into the multi-billion dollar carbon credit market through the implementation of the Clean Development Mechanism (CDM), the Reducing Emission from Deforestation, Forest Degradation (REDD+) and other mechanisms aimed at promoting sustainable development.
Story by Kofi Adu Domfeh