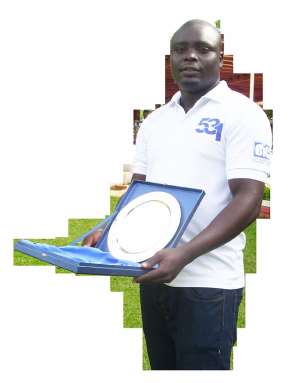 On a misty kiss Saturday when the giants in world golf scrambled at "golf's toughest test" at the Olympic Club, it took Webb Simpson to come from 6 shots back to win the US Open.
In Accra, at the Achimota Golf Club, Vincent Coffie at the Taysec June Monthly Medal tried his best to put a positive spin on things and his efforts produced eclectic mix of scores to stay atop the leaderboard in the Men A Division. Mettle of feat he achieved among a very solid field.
"I appreciate the heavy field that I played with, I practiced a lot so I expected to prevail and I am happy my toil paid off." He continued, "I appreciate the continual support from my sponsors, CIC, who have shown lots of faith in me. I am most grateful for their support." He noted.
On a day when the greens were very receptive due to the rainy period, CIC sponsored Vincent Coffie found his rhythm and hit fairways and greens with amazing accuracy.
He returned a net score of 69 playing off handicap 2. He kept the ball on the correct side of the pin and sunk hat-trick birdies on par 5- third, par 4- fourth, par 4- fifth with a lone bogey on hole seven with a steady diets of pars at the end.
On the back nine, a bogey scare almost brought the spin on his game to a halt when he double bogeyed hole no. 14. In a split moment, he holed in a long pitch for eagle on par 5- sixteenth to get back in contention.
A truly happy ending for the young golfer who barely a month away in Kumasi during the Asantehene Open could not qualify for the Pro stage but has been keen on improving every aspects of his game since. "I am on track to gain prominence in this game. As you can see my game is just on and I shall keep the thrill as it lasts." He intimated.
Keteku D. Larweh came second with brilliant round of play and he is sure thankful for small mercies in golf. He chanced on a book that reveals the three principles on how to start a competition prior to a game and according to him, "that piece of information did the magic for me."
1. Hit about ten to fifteen balls in a range. 2. Have your breakfast. 3. Rest for about one hour before a game. These were the three golden principles that are enshrined in the said book. Playing off handicap 5, he returned a net score of 70 to secure second place finish. With a medley of two birdies, one double bogey, one bogey and streak of pars made up for his play statistics.
Joseph Klah kept a radiation on his game at an all-time high and was grateful he did. Playing off a daring handicap 1, he scored to a net of 70 off 1 to emerge third in the Division.
In the Men B Division, S. Amoah surfaced first with a net score of 66 off handicap 22. B. Ernie followed him with a net score of 67 off 17. Third place finish went to Lange Camp playing off handicap 23 for a net score of 69.
In the Ladies A Division A Division, Konadu Safo-Debrah believes that her mental attitude in the week has been quite good and she believes she is steadily creeping back into the game. She returned a net score of 76 off handicap 17 for first place finish. Jessica Tei came second on a net score of 79 off 12.
F. Vandyck emerged first in the Ladies B Division on a net score of 80 off handicap 21 beaten into second position was B. Sowah-Allotey who recorded a net score of 83 off 26.
Present at the event were MD of Taysec Construction Ltd, Mr. Geoff Fisher, Captain of the Club, Rene Gameli-Kwame, Groups Commercial Manager, Anthony Morgan and Sam Zaki, Logistics Manager.
Carl Brew-Aidoo, last month Men A victor, was one of two persons that won a voucher for a superb treat at the Golden Tulip Hotel on the sponsorship of Allianz Insurance.
Story by Collins Oppong