"Enough is Enough': Ghanaians in US petition Ambassador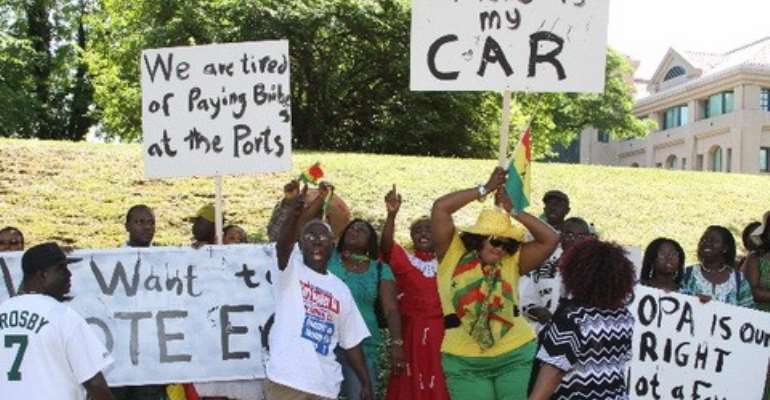 Some Ghanaian citizens abroad last Saturday picketed outside the Embassy of Ghana in Washington DC and presented two petitions to the Ambassador. According to the demonstrators, their concern was in short: "Ghanaians abroad are tired of being treated as second class citizens".
The event organized by Concern Citizens of Ghana drew crowd from the length and breadth of the United States of America.
Organisers of the event said the determination of an overwhelming number of Ghanaians in the diaspora willing to help Ghana in various capacities have been frustrated by an "institutionalized culture of bribery and trickery".
Stating emphatically that "enough is enough", the group called on the government to address situation at the various missions abroad which puts impediment in the ways of Ghanaians who want to do business in Ghana. They picketers also expressed concerned about duties pay at the Ghanaian ports and the need for the government to implement ROPA to enable Ghanaians in the diaspora to vote in elections.
The nonpolitical exercise which broadcasted across some internet radio stations like Highlife Radio, Sunlight , Awaaba and Obimanso had speaker after speaker calling for solutions rather than bashing and apportioning blame on a particular political party or dispensation.
The event was rather very civil as protestors stayed on the march route, which allowed the District to deploy minimum police presence. The protestors sang and paraded outside the Embassy in their ever colorful Red Gold Green colors. A few of the placards they carried read "Enough is Enough Port Officials"; "Ghana is for Ghanaians"; "We want to Vote, EC"; "Where is my Car?"; "ROPA is our Right not a favor" and "We are tired of paying bribes at the Ports". These signs summed up the bane of the protest in a rather succinct way.
The Ambassador Mr. Daniel Ohene Agyekum ceremoniously came out to accept signed petitions and addressed the gathering.
Mr. Ohene Agyekum in his response said "the documents presented him will be delivered to the appropriate office as early as Monday June 18th."
The Ambassador asked the gathering to call upon their families in Ghana to pursue a violence-free election.