Uganda police raid opposition as Museveni enjoys early election lead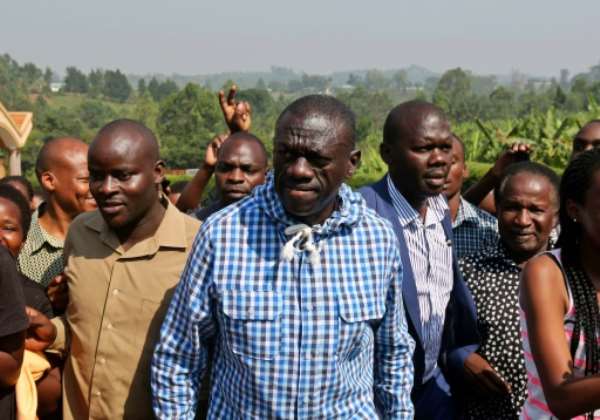 Kizza Besigye arrives at a polling station to vote in his home town of Rukungiri, 400 km west of Kampala on February 18, 2016. By (AFP)
Kampala (AFP) - Ugandan police stormed opposition party headquarters and arrested top presidential challenger Kizza Besigye Friday, as early results showed veteran leader Yoweri Museveni enjoyed a solid lead in the country's chaotic elections.
The police raid came as people were still queuing at dozens of polling stations in the wider Kampala area with voting extended in 36 sites for a second day, after delays Commonwealth election observers called "inexcusable".
Preliminary results released by the Electoral Commission from just over a third of polling centres nationwide gave the 71-year-old President Yoweri Museveni a clear 63 percent of the vote.
The former rebel fighter faced a challenge from seven candidates, but is expected to easily win re-election for a fifth term in office and extend his 30-year rule of the east African country.
Thursday's presidential and parliamentary votes were disrupted in the capital Kampala by the late arrival of ballot boxes and papers, angry demonstrations by frustrated voters and police using tear gas.
- Third arrest -
Besigye, who had already been arrested on Monday during campaigning and again on Thursday evening -- in actions condemned by Uganda's close ally the United States -- was taken into custody for a third time on Friday.
Police surrounded Besigye's Forum for Democratic Change (FDC) headquarters, firing tear gas and water cannon, before bursting inside and arresting top party officials.
"Some reasonable measures have been applied to rein in FDC supporters who wanted to disturb the peace and the ongoing exercise," senior police officer Felix Andrew Kaweesi told AFP.
He said the arrests came after fears Besigye -- who initial results says has so far taken 33 percent of the vote -- was to publish FDC tallies of polling.
"Besigye knows very well that the mandate to declare electoral results lies with the electoral commission," Kaweesi added.
Counting is under way at 28,000 polling stations across the country where voting passed off smoothly.
- 'Serious shortcomings' -
The Citizens Election Observers Network-Uganda (CEON-U) said the election had been "relatively peaceful" but noted "some serious shortcomings in adherence to (international) standards".
Over 15 million Ugandans were registered to vote for both a president and members of parliament, with 290 seats contested by candidates from 29 political parties.
The leading presidential candidate requires more than 50 percent of votes cast to avoid a run-off.
In the Kampala suburb of Ggaba -- where riot police had used tear gas on Thursday to disperse crowds of frustrated voters -- queues formed soon after dawn on Friday.
One young voter, a student who was caught up in Thursday's chaos and only gave his name as Ronnie, said he arrived early and was confident he would be able to finally cast his vote.
"I'm old enough so I must honour my vote," said the 22-year old, who was voting for the first time.
A 42-year old man called Isma said he had successfully voted.
"We have already started receiving results, which is a little bit in favour of the current government, and we are just waiting to see how things go," he said.
Disenchantment with politicians, their politics and the faltering economy has been increasing in a country where the median age is less than 16.
With Kampala traditionally an opposition stronghold and with many sceptical over the impartiality of an electoral commission run by a chairman who has presided over two previous controversial victories for Museveni, some see sabotage rather than incompetence in the election day chaos.
"Why, here in Kampala where the electoral commission resides, would be the ones not to receive ballot papers which could even be carried on someone's head and walked to the polling stations from their headquarters?" said Besigye.